Awards season is back in full swing, as surely as there should be snow on the ground and ice in the sea. Sunday's American Music Awards served as a warm-up red carpet for most attendees, given that music shows are by necessity and spirit less black-tie than most, and also because the AMAs don't really mean anything other than some fun promotional opportunities and entertainment on a Sunday. And yet, does anything mean anything? Not even hosts Jay Pharoah and Gigi Hadid rapping wanly about Trump can rouse us from this dread-coma. Maybe some of these ensembles can do the trick.
White pantsuits and lingerie hit a perfect note for this crew, beginning with Ariana Grande's McQueen tuxedo trousers and vintage bustier, giving a '90s CEO look; Gigi Hadid's red carpet look was a little more 1982 prom queen, where's the wicker crown chair.
Both Halsey and Skylar Gray are giving different interpretations of Mars business casual; I am here for the resurgence of the shaved-head movement, and I thought a lot about her stirrups tucked into sandal straps and decided it works in this Vetements moment.
G/O Media may get a commission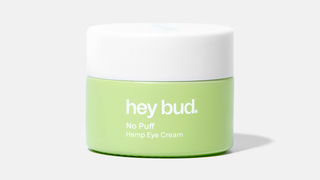 15% off
Hey Bud - No Puff Hemp Eye Cream
Janelle Monáe took a cue from Hidden Figures and is serving fabulous 1968 Vegas cocktail hour, so get the lady a champagne; Keke Palmer is clearly paying homage to the 20th anniversary of Lil Kim's Hard Core and couldn't look better doing it. Taraji P. Henson's executive bustier chic is perfect for this kind of event, and she coordinated with her co-stars (Octavia Spencer didn't walk the carpet, but contrasted her stripes with Monáe's).
Too fabulous.
Behati Prinsloo and a pretty-pregnant Ciara wore dresses with complicated ruffling; Daya and Emeli Sandé kept their black and white looks more casual and streamlined.
When will sheer and lace end? It's beautiful but I find it incredibly tiresome. Nonetheless, Idina Menzel, Kat Graham and especially Milla Jovovich all look great in designer looks—Thai Nguyen Atelier, LaBourjoise and Elie Saab, respectively—but I would like some new ideas.
Teyana Taylor is also sticking with the sheer, though tonight's look is a little bit Vanity 6 goes to prom; Tinashe is cute, though, in a floofy, girly polka dotty thing. Z LaLa always wears something notable, if not always palatable; the latex and curly-cue hair look is at least challenging us a little bit to think outside the stylist box.
Joanne went as Joanne and was extremely Joanne.

Rebecca Romijn is always lovely but looks like she thinks she was attending the Golden Globes; has there ever been a more Rocsi Diaz ensemble than this Rocsi Diaz ensemble? I swear she is constantly wearing some kind of sexy jumper. Erin Foster and Sara Foster are apparently somehow related to Gigi Hadid by her mother's marriage to their father David Foster, though I don't know how that works post-divorce. Their slip dresses are very Los Angeles. Selena Gomez is in custom Prada; I love it, but this really isn't a ball gown moment, even a ball gown with a tank neckline.

Here are three angles of Chrissy Teigen with husband John Legend because this is a true J.Lo-style, don't-try-this-at-home va-va-voom look. This woman just had a baby and is holding her dress together with a fancy safety pin; pardon me while I go do my Keaira LaShae videos some more.
These men are fancy! I really don't think I knew Niall Horan existed until this exact moment; this graphic grey suit, pocket square... in another life he could be a fly Bond sidekick or securities trader. Stephen Yeun's appearance here proves there is life after Glenn, so I hope his highly ceremonious beheading translates to more roles, so we can look at him in those nice glasses. Sting is cool dad! Ty Dolla $ign is doing L.A. R&B fully in those boots, hat and leather; he also won an award with Fifth Harmony for "Work From Home"! Not as good as "Work," though.
Speaking of Fifth Harmony, this is hands-down the best I have ever seen them on a red carpet—mainly, I think, because there is a minimum of bells and whistles and like, straps or some shit hanging from the hems. Good job, everyone.
Garcelle Beauvais went with form-fitting leopard print, while Karlie Kloss went with formfitting SOCK BOOTS. I'm getting used to it but it's hard. Noah Cyrus and Olivia Munn could have planned their springy looks before they left the crib. BFFs?
Shiny!!! Hailee Steinfeld's Elie Saab looks like it was made on the Moebius Strip method of fabric manipulation; Heidi Klum's Gucci gold is lovely but reminds me of Melania and therefore I must reject it; Rachel Platten's really into mermaid nightlife.
Julianne Hough's ice blue Zuhair Murad is one of my favorite looks, but is sullied by the wearer; Nina Dobrev is going to the club later; sisters Dani Thorne and Bella Thorne did matching hair which I find very cute as a concept, even though I still am unclear on who/what/when/where/why/how.
Babe Rexha in vintage YSL. Cam in yellow crepe. Hannah Davis Jeter in your mama's good tablecloth. This year is fucking dead to me, y'all.