On Friday morning, former New Hampshire state representative Marilinda Garcia introduced Carly Fiorina in the basement of Manchester's Millyard Museum at an event called "Coffee With Carly." Around 8:45 a.m., the guest of honor slid out awkwardly from behind a large "Take Our Country Back" sign to a few polite whoops.
Rep. Garcia said she had decided to endorse the former HP CEO because she was inspired by her story, and because "she's never made me cringe." That is, perhaps, the most concise way of describing Fiorina's ground game: vaguely inspiring and generally not embarrassing, except for the fact that her campaign is rapidly losing ground and a lot of her statements are highly misleading. ("If you're poor, you're stuck in a lousy school," Fiorina told the audience, responding to a high school senior's question about the Common Core. "You know who thinks that's okay? Democrats and the Teachers Union.")
Jezebel watched Fiorina at two back-to-back events—first, on Thursday evening at the Hillsborough County GOP 2016 Primary Gala in Nashua, and the next morning at "Coffee with Carly." At both events, Fiorina performed her stump speech with the bottled rage and pointed, dramatic breaths of a Shonda Rhimes character, a brand of scripted female anger that GOP voters seem to find at least somewhat palatable. "In your bones, you know that we are losing something vital in this nation," she said slowly, grimly.
She spoke about cutting the government down to size, and about restoring the character of our democracy by electing a civilian to the county's highest office. "Ours was intended to be a citizen government," she thundered, in dramatic reference to the fact that she is likely to be cut from Saturday's GOP debate based on her recent polling numbers. In both events, a major theme was Fiorina being potentially excluded; one woman at Coffee with Carly asked, "What can we do about ABC?" The candidate urged her supporter to "flood" ABC, the RNC and Twitter. The woman then interrupted her to ask, anxiously, "But they're not answering the phones?"
Fiorina spoke convincingly, if (again) misleadingly, about her foreign policy experience—she had been granted the highest security clearance a civilian could be granted, and had advised the CIA and at least one secretary of state. She also emphasized her experience in the tech sector and how she'd incorporate that knowledge on the job ("There's an app for citizen government, ladies and gentlemen"), jabbing at Clinton's email blunders and gently ribbing New Hampshire voters for being behind the times ("I gotta say, there are a lot of flip phones here in New Hampshire," she joked, getting a big laugh).
G/O Media may get a commission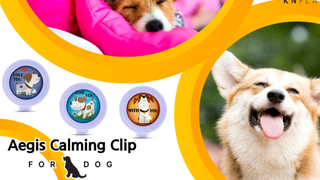 20% off
Aegis Calming Clip for Dogs
The Hillsborough County Gala, located at the Crowne Plaza hotel in Nashua, was a bit of a step up from the last Republican event we attended—at least in terms of appetizers (bacon wrapped scallops!) and quality of suits (better!). The attendees were mostly much, much older than us, aside from a few gangly and extremely bored teens passing out raffle tickets. One attendee, a middle-aged woman clearly involved in the Hillsborough GOP, was extremely interested in speaking to everyone remotely important and spent several excruciating minutes talking to Sen. Kelly Ayotte, one of the event's speakers, who politely tried to turn away several times. (Later, Ellie would accidentally take a sip of Sen. Kelly Ayotte's water, thinking it was her water. This was thrilling for both Ellie and Joanna.)
The "gala" was in reality a very small and somewhat casual event that cost $35 to attend; less than 50 people were in the room during Fiorina's speech, and a number of them were eating carrots and ranch dressing as they listened. One of the speakers at the gala, Rod Eccles, was billed on the program as "The Coolest, Most Politically Incorrect Conservative Black Man On the Planet." This was a disappointingly misleading statement—he said nothing that was offensive, but several things that were weird. "I'm not just the coolest most conservative black man on the planet, I'm a man who's having a love affair with my country," Eccles beamed. He also introduced himself as being part-Cherokee, adding, "And by the way, I have the paperwork to prove that!" The crowd went wild.
As we waited for the speeches to start, we were approached by three men: One just smiled, stared, and wandered away; another, a kind, grandfatherly Kasich volunteer who drove up from Chicago in an airstream, smelled so much like a cedar closet that we didn't listen to anything he said; a third man in his late 40s leaned over our table, looked rakishly into Joanna's eyes, and asked, conspiratorially, if we were "just here as a schmuckatelli," like him. "Yes," we replied, because that seemed right.
Fiorina peppered her speeches at both events with a single well-worn joke about Hillary Clinton: "This is a woman who has escaped prosecution more times than El Chapo!" According to Carly Fiorina, Clinton is less of a presidential candidate than a literal criminal who needs to be captured and imprisoned. At both events, she received a roar of applause when she said, "Whether or not you support me, you know you can't wait to see me debate Hillary Clinton."
At Coffee With Carly, exactly three notable notable things happened. First, we learned that Carly Fiorina can't pronounce the word "Massachusetts."
"Here's the truth about Massa-too-setts," she said in response to the high schooler asking about Common Core. "Some kids in Massa-too-setts get a really good education, and too many kids in Massa-too-setts get a really bad education and it has to do with where you're growing up."
As she continued to mispronounce the name of a major state, audience members began to turn to each other and whisper in disbelief, "...Massa-too-sets?"
Second, a sweet little girl named Corda was coerced by her well-meaning father into asking Fiorina a question. When the child was finally given the microphone, she totally clammed up, and Fiorina walked over to her in the aisle to retrieve the typed question the girl was holding. The moment was surprisingly tender.
"Anyone can lead," Fiorina said. "Because you know what leadership is? Leadership is about unlocking potential in other people. Leaders are made, not born… You can't let other people tell you to sit down. You can't let other people tell you to settle for the way things are. Know what you're made of. And Corda? I can tell what you're made of, so aim high, and go lead."
Third, Ellie spoke to a nice, mustachioed man named Howard "Cowboy" Wooldridge for many, many minutes. He was wearing a cowboy hat (natch!), a t-shirt that said "Cops Say Legalize Pot (Ask Me Why)," a black turtleneck under that t-shirt, and a large gold belt buckle. "My problem is that every day in America, we are employing 900,000 teenagers as drug dealers. And every day, 20 are shot dead. And nobody talks about it," he began, explaining that he believes drugs should be a medical rather than criminal issue.
"So do you consider yourself a gun control advocate?" Ellie asked.
"Oh no, I belong to the NRA," he said. "No, no, no."
Cowboy was a Rand Paul supporter shopping for a new candidate ("Rand Paul drops out so it's like, oh man, who do we vote for now?"), who mentioned being quite impressed by Ted Cruz. No one out of the handful of people we spoke to at the Coffee with Carly event were sure they would vote for Carly Fiorina. We're not sure what else she could do to convince them.
---
Contact the authors at joanna@jezebel.com and ellie@jezebel.com.
Photo by Ellie Shechet.