In the cover issue of T, on newsstands Sunday, you'll find a photograph of one of cinema's most familiar, yet unknowable, faces. Charlotte Rampling, star of Andrew Haigh's new film 45 Years, has been famous for nearly half a century, but no one has really cracked her yet.
The magazine's profile of Rampling, written by Mary Gaitskill, is filled with the kinds of overly mysterious lines that exaggerate the actress's guarded personality in that dreamy, fog-covered way that makes you kiss the tips of your fingers and say, "Ahhhh, yes. Celebrity."
"Rampling has consistently shown her ability to subtly dramatize strong, sometimes contradictory inner states," Gaitskill writes.
She continues:
Some reviewers attribute this ability to her mysterious, preternatural charisma and abiding beauty, and that is part of it. But it is also her actively focused talent for the natural representation of real people. We don't notice how expressive ordinary people are unless we love them enough (or are frightened enough by them) to pay real attention.
G/O Media may get a commission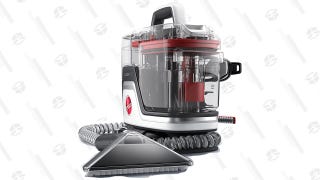 Save $10
Hoover CleanSlate Plus Carpet & Upholstery Cleaner
God, I love it. But Rampling doesn't need a novelist writer to churn out pull quote-worthy lines; she has plenty of her own. When discussing the art of acting, she says:
I can't explain what it is and how you get there, but it's not anything to do with the intellect. I wanted to get to the being state of a character. Just watching someone being, living.
There is truly nothing I love more than people who have been famous, respected actors for over 40 years discussing their craft. Serve us more, Char! Give us that method realness!
"That's what I always wanted to do,'' she said. ''I wanted to make my life, not a work of art — I didn't think of it that way — but I wanted to create a visible continuity in what I did."
And just when you thought acting couldn't get any more intense, this comes along:

You can read the entire profile here.
---
Contact the author at bobby@jezebel.com.
Images via T Magazine.