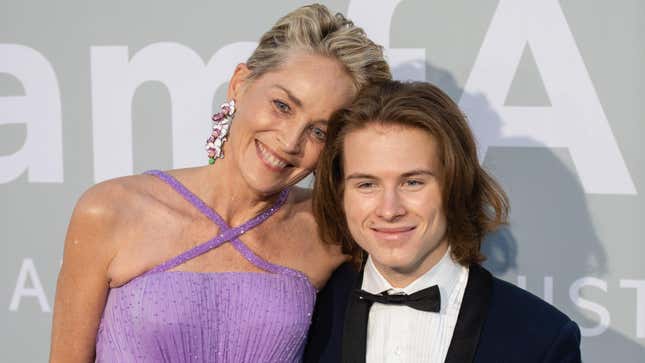 Basic Instinct might have put Sharon Stone's name on the map and earned her a Best Actress Golden Globe nomination, but it seemed to have also caused her to lose custody of her young son. In an interview with Bruce Bozzi, on his podcast Table For Two, Stone alleged that her portrayal of femme fatale Catherine Tremmel led the judge to ask her son, "Do you know your mother makes sex movies?"
Megan Rapinoe Uses Media Time to Discuss "Cruel" SCOTUS Ruling
"I lost custody of my child," she told Bozzi. "It literally broke my heart," she continued, explaining that doctors noticed irregular heartbeats when they were doing a mammogram after the incident. The "sex movies" the judge was referring to was the "maybe sixteenth of a second of possible nudity" in Basic Instinct's famous interrogation scene. In it, as Tremmell uncrosses her legs, she exposes her genitals. "People are walking around with no clothes on at all on regular TV now," Stone said, lamenting the backlash she received for the 1992 movie scene and calling it "abuse by the system."
Stone and her husband, editor of the San Francisco Chronicle Phil Bronstein, were married for about five years before filing for divorce in 2003. In 2000, they adopted a son, the one Stone says was taken from her. Admittedly, the timeline of her story and records of Stone and Bronstein's divorce don't fully line up. Their first custody battle during their divorce left them both with joint custody of their kids and it was not until 2008 that she lost custody. Court documents sourced via The Mercury News read that "While this court in no way faults (Stone) for having to travel for her career, she is unavailable for Roan on a constant basis" as being the reason for granting Bronstein custody.
That being said—while the judge citing "sex movies" might not have been the explicit reason she lost custody, it's hardly shocking to witness a mother's sexuality, especially if it's linked to her profession, angled against her in custody cases. "Every sex worker I know who's a parent and has gone through a divorce or separation has had their ex try to use that to take the kids away," Juliana Piccillo, founder of Red Umbrella Babies, a collective of sex workers who are also parents, told the Daily Dot in 2015. Liz Afton, a counselor at New York City's Sex Workers Projects explained in a 2018 interview with the socialist newspaper In These Times that, "Parents, particularly mothers, who are involved in sex work often have it used against them to separate them from their child."
Of course, the issue at hand isn't Sharon Stone being a sex worker, but her reputation as a sex symbol gave leeway to a lot of chauvinistic assumptions to be made about her.
Today, Stone lives with her oldest son as well as her two younger sons, so it's at least nice to see the judge's allegedly irresponsible comments didn't completely sever her relationship with him.