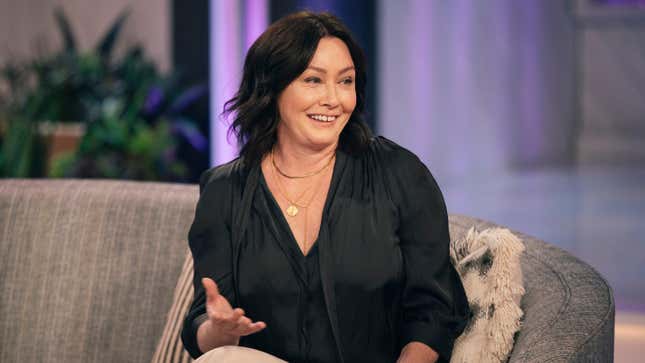 Actor Shannen Doherty's breast cancer metastasized to her brain. The 90210 and Charmed star was first diagnosed with breast cancer in 2015, but she announced a stage four diagnoses in February 2020.
Doherty shared an emotional video on Tuesday afternoon of her sobbing as she prepares for radiation therapy on her brain and being fitted for the mask she'll wear during treatment. "My fear is obvious. I am extremely claustrophobic and there was a lot going on in my life. I am fortunate as I have great doctors like Dr Amin Mirahdi and the amazing techs at cedar sinai [sic]," Doherty wrote in an Instagram caption. "But that fear…. The turmoil….. the timing of it all…. This is what cancer can look like."
This is just the latest in the actor's long, arduous cancer journey. She was first diagnosed with breast cancer back in 2015, and within the year, she had had eight rounds of treatment, including chemotherapy and radiation, according to CBS News. She announced she was in remission in 2017. But in February 2020, Doherty shared that her cancer journey wasn't over. "I don't think that I've processed it. It's a bitter pill to swallow in a lot of ways," Doherty told Good Morning America.
She chose to finally share the diagnosis because of a legal battle against an insurance company. It likely would have come out in court filings days before the 2020 interview, she said. "I'd rather people hear it from me. I don't want it to be twisted. I don't want it to be a court document. I want it to be real and authentic," the actress said. "And I want to control the narrative. I want people to know from me, I just didn't want them to know yet."
In October 2021, Doherty said she wanted to continue working through her diagnosis when possible. "I think work was always very fulfilling to me, but in a way, it's become even more fulfilling," Doherty told ABC. "A lot of people who get diagnosed with stage four, they sort of getting written off. It's assumed that they cannot work or they can't work at their full capacity. And that is not true. And that is something that I would really like for people to sort of stop assuming, and give us a chance to prove them wrong."