I can't pinpoint when I started really caring about skincare and makeup. I definitely washed my face with just body wash and water until high school before I transitioned to that Clean & Clear tip. For me, makeup was slapping some Maybelline mascara onto my stick straight lashes, supplemented by a constant and heavy application of beauty supply store lip gloss (strawberry-scented only).

After moving to New York and during my first year of college, I decided that I actually wanted to start "getting into" skincare and makeup. This most likely stemmed from working at Wilhelmina Models during my first two years of school. Nothing will make you want to start taking care of your skin quite like being surrounded by models. At the beginning of my foray, I was convinced I had cystic acne and bought the full Proactiv set, which thoroughly murked my skin. Bouncing from brand to brand after I ran out made it worse. My skin was crying out for help until I finally landed upon my current routine which I stan and very much love. Shoutout to my old job for being in the same building as Kiehl's PR office and my coworker for letting me piggyback off of and then bum her contact there.
Makeup-wise, I discovered the great big world of beauty YouTubers around 2016 and kind of took it from there. A hundred videos later and all of a sudden my dresser top was covered in products I never knew I needed. Thankfully a few of my close friends are just as into makeup as I am, so I get to furiously send them links about new products and get their feedback on a certain product before I buy. My big sister is also a makeup fiend. She gets the same treatment, but much more aggressive (a perk of being related). She also gets a selfie almost every morning of that day's "look." I usually go for the "dewy, just woke up, flushed, I just look like this" shtick. But, when I'm feeling a lil' frisky, I slap on the brightest, shiniest, and/or most pigmented eyeshadow and walk out. I often forget I'm wearing some crazy eyeshadow and panic when people stare at me on the train, thinking I got a booger or some shit.
I am very happy I have finally landed to where I am now. I love skincare and truly do try to take the best care of my skin — though I do need to start drinking more water!! Makeup is fun AF for me and I love receiving and then depositing my Deadspin paychecks into both Sephora and Rihanna's bank accounts.
G/O Media may get a commission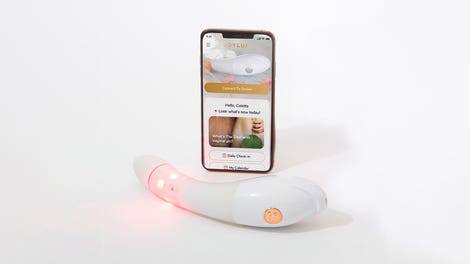 $50 Off
Joylux vFit Gold Device
6:30 A.M: is when my first alarm goes off.
7:00 A.M: This is when I actually get up.
7:15 A.M.: - This is when I truly, actually get up.

I always take my shower in the morning as a "wake me up." I recently started having some issues with breakouts and patches of eczema, so I use Dr. Bronner's Pure-Castile Soap in peppermint to soothe my skin. I wash my face using Kiehl's Ultra Facial Oil-Free Cleanser. It's a no-hassle face wash: unscented, easy and gentle, and does its job. I usually put this on a charcoal Konjac sponge I got on Amazon but the one I had dropped into the bathroom trash and so there she stayed. My hair is truly something else. The more I do to her the worse she looks, so I wash every other day to give her a break. Today is a skip day or else I'd be using the VERB Ghost shampoo and conditioner set which smells so good and also helps tame the beast.

After I'm out of the shower and while I'm letting myself air dry some (good eczema tip I learned), I get moisturize my face. I LOVE moisturizing my face. The sheeny glow of my face after I do it really makes me feel like I'm healthy, rich, and my life is together (none of these are true).
Again, a Kiehl's disclaimer: I knew someone who worked at Kiehl's that was very kind and generous so there will be a lot of Kiehl's in here.
I start with this Kiehl's Hydro-Plumping Re-Texturizing Serum which is supposed to plump my skin and smooth out fine lines. To be perfectly honest, I'm not sure if this really does anything but it makes me feel nice. Next I go in with my holy grail item, Clearly Corrective Dark Spot Solution. I am obsessed with this stuff. Once, my sister asked for one of the two spare bottles I've hoarded and I laughed. As a face picker, prodder, and toucher. I have a trail of hyper-pigmentation and scars all over my face. This Kiehl's stuff has helped dull and even erase some of my spots. I gently rub it in only on the dark spots on my chin (where I break out the most) and not all over as I have an irrational fear that it will dull my freckles (which I love) even though I know it won't.

Next I go in with my ice roller, which I saw on some influencer's IG stories one time and purchased immediately after. I'm down for anything that is gonna de-puff my usually very puffy skin (team insomnia stand up!!) and tighten it up. I roll for about 3 minutes or until I can't stand the cold anymore. I let my face sit for second and then apply SuperGoop! sunscreen all over my face and neck. I once read that Pharrell refuses to go out without sunscreen and immediately that same day I was like, yeah, same. Next, I mix two pumps of the Kiehl's Skin Rescuer moisturizer with one pump of Kiehl's Glow Formula Skin Hydrator. A little base glow before the good stuff (hint: Fenty). And finally, I pat two dots of the Kiehl's Super Mutli-Corrective Eye-Opening Serum under my eyes, hoping it'll erase my bags.

By now my bod is 100% drier than it should be and I need to moisturize ASAP. I alternate between using a mix of three oils: coconut oil (the OG), peppermint oil (used on praticularly itchy spots to soothe), and neem oil (the oil god) OR this whipped peppermint shea butter one of my best friends back home in California made for me after I begged her to. It's so smooth and smells amazing. She handed out little jars of this homemade shea butter as party favors at her wedding and I took several (sorry, Jeanelle) and have one almost everywhere I would need it: one on my bedside table, one in the bathroom, one at my desk at work. After moisturizing my body, I sit for as long as I can letting everything absorb. Most of the times I'm running late though and have to get dressed sooner than I'd like
8:00AM - Before I start my make-up, I get myself glass one of many iced coffees of the day, from the very handy Kitchen Aid cold brew maker my boyfriend got. Drinking coffee while I do my make-up makes me feel very fancy and like I have all the time in the world. Truly, a false narrative.
No foundation or concealer because I really don't like the way it looks on me. I have lots of imperfections and pimples (including some today) but I just let them rock because, why not. Onward: The first thing I always do is curl my eyelashes. I use this lil' Tweezerman number I picked up at some drugstore. My sister got me a really nice Kevyn Aucoin one but it broke :( so Tweezerman to the rescue. I am half Asian and half white, so my lashes are long and stick-straight. Curling them just makes me feel better. Even if it's the only thing I do make-up wise that day, it makes me look less Snuffaluffagus and more "hello." One time I got my eyelashes permed at Beverly Hills Lashes in LA and it was the best 3 months of my life. Shoutout Kilee!!
Next, I use concealer on my eyelids as primer for my eyeshadow, dabbing it all over my lid using a knockoff Beauty Blender. Today my vibe is "natural but make it pop." I take a Morphee blending brush (use code: Shaina for 10% off) and spread a nice light tan base color from the Jaclyn Hill x Morphe eyeshadow palette. My old coworker gave this to me after she decided she didn't want it and I have been forever grateful to her for it. I try to mimic the even and controlled strokes that the several beauty YouTubers I watch execute, but I always seem to end up with shadow touching my eyebrow. Next, I dip into a shade slightly darker from the same palette and sweep it on top of my base shadow. I then take my Nars bronzer and sweep it into my crease to "define it."
I do love Glossier make-up products and am okay admitting it. I take Glossier Lidstar in Lily and gently touch the doe foot applicator to the inner corner of my eye and the middle of my lid. I use my pinky finger to pat, pat, pat, it in. This my "pop." My eyebrows are NOT done right now and very sparse so I do have to fill them in with Glossier Boy Brow in black. I brush against the hairs first and then comb them back down. Next, I use this big fluffy bronzer brush, get back into the same Nars bronzer, make a contour fish face and "hollow" my cheekbones out. I honestly, truly never see any difference when I put this bronzer on? But who knows— maybe it's making me look like I got cheekbones for days.
I'm feeling a little fresh today, so blush it is. The Milk Makeup Lip + Cheek stick in "Rally" is a personal fav. I dab a tiny amount on my middle finger and pat down my cheek, saving the heavier bits for the apple of my cheeks. I also rub just the slightest on the bridge of my nose. I saw some Vogue "get ready with me" video where the model said she puts a little cream blush on her nose to look "sun kissed." Not sure if that's what it looks like on me, but yolo.
The second to last step is highlighter. I love to glow, hon. I have liquid highlighters, powder highlighters, hybrids, etc. Today I go with one of all time favs—the insta-classic Fenty Beauty Match Stix in Starstruck. I do several swipes of this on the top of my cheekbones and then rub in with my ring finger. I like to be shiiiiiny. I also do a heavy swipe on my cupid's bow purely because I like the way it looks. It will be licked or wiped off in the coming hours.

Last steps for my face are lips and mascara. I use the Glossier Balm Dot Com in Cherry just to give my lips a little somethin', somethin'. And then finally a swipe of MILK Makeup Kush mascara on each eye, the better to enahnce my prized possession, my eyelashes. My lashes are very long and are my prized possession. I set my masterpiece in place with the NYX Dewy Finish spray.

My hair is always a nightmare so I usually just pull it back into a low bun. I spray on some Kiehl's musk and I'm all done!
I am natural with a pop (hopefully). In about 3 hours I will forget that I have makeup on and rub my eye messing it all up. Just look at the above photo and please remember me like this.

7:30PM - I arrive home and in my perfect world I would order takeout and watch TV. However, my boyfriend has decided he would like to be seen in public with me and wants to go to dinner.

My make-up has faded a tad through my face-touching, oil-producing, tired-ass day. However, I'm far too lazy to wipe off what I've got on and start over again. For a special occasion, sure, but for us to walk up the street to Peaches for dinner, sorry. Instead, I will "revitalize" my current look.
To do this, I add Maybelline's Master Chrome highlighter over the Fenty I applied this morning. The Fenty hasn't really faded and so when I add the Master Chrome on top of it, I get this great intense glow which I LOVE. Since I've put just the tiniest amount of the Lidstar on, it's faded and broken down a little so I can go over it and it (maybe) won't look a mess. I dip into this custom NYX palette I made at the NYX store, a cute little quad with bronze, gold, hot pink, and a baby blue. I spread the bronze all over my lids managing to get way "outside the lines" using a NYX blending brush. I take the same brush and get back into my Jaclyn Hill x Morphe palette and pick a bronze-but-more-gold color and pat it on top for some extra shine.
At this point I am being rushed and keep getting distracted by my cat who is going berserk running around the apartment, so I quickly put on a hot pink Wet n' Wild lipstick. It's not really going with my look and makes my growing chin pimple a lot redder. I wipe off this color and go with a Maybelline matte lipstick in "Raw Chocolate" instead. It's also not my favorite but at this point I'm being ushered out the door so it stays. With my revitalized night look on my tired ass face, we head out the door to eat. If you haven't been to Peaches in Bed-Stuy, you're missing out!

9:30P.M. - We get home and I'm ready for b-e-d. No matter how tired I am, I make sure to take my make-up off and wash my face. I use this Korean make-up remover that is amazing and takes off everything in a few swipes. To address my growing pimple friend, I use Kiehl's Clearly Corrective Brightening & Exfoliating Daily Cleanser. There's tiny little exfoliating beads in it that gently wipe the top layer of my skin off and I LOVE IT. After I dry my face, I go in with Glossier Solution as my toner. It stings today which means it's working so, right? let it sit for a minute while I pet my cat who is licking her butt on the couch.

To start my nighttime skin routine (after I wash my hands), I pick up the Clearly Corrective Dark Spot Solution and rub it on my dark spots. I then go in with Kiehl's Powerful-Strength Line-Reducing Concentrate with Vitamin C and Hyaluronic Acid. I don't use this all over my face but just on my forehead and chin, where I think I need it the most. I then go for this Boscia Tsubaki Beauty Oil. I was VERY averse to putting oils on my face at first. but when I thought about it, I realize it does make sense: after stripping my face of oil with my cleanser and toner, it's best to get a head start on replenishing my face with oils it'd be producing anyway! After I'm all oiled up and glossy, I wait a beat before going in with my winter moisturizer, the cult favorite Weleda Skin Food. This cream smells amazing and is super thick and creamy and coats my skin and makes me feel very luxurious. I end this routine with the same Kiehl's eye serum from this morning, patting under my eyes, again, hoping my bags will disappear by morning.

I am now greased up and ready for bed. I lie down and rub some Vaseline on my lips and shea butter on my hands. I flip on a YouTube video finding some inspo for the next day. I pass out shortly after they start filling in their brows with their Anastasia of Beverly Hills Eyebrow Whiz pencil.