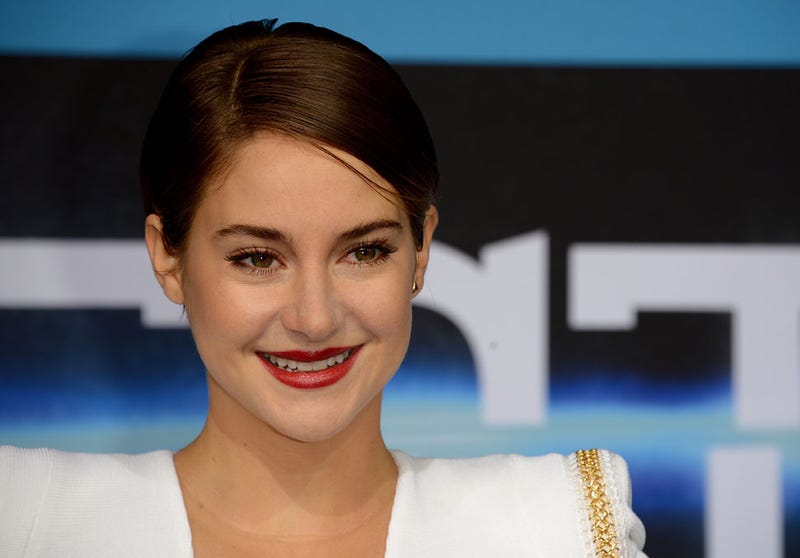 Last night was the Divergent Berlin premiere and our favorite celebrity wood sprite, Shailene Woodley, was on her best behavior. Beautiful, expensive-looking Zuhair Murad gown. Check? The lipstick that she usually forgoes on the red carpet? Also check. After the premiere, though? All bets are off.
It's always something with Ms. Woodley, isn't it? She talks about how she doesn't wear makeup to most premieres because of unrealistic beauty standards, as has seems to have been the case with this latest press tour, to some red carpet commentators' consternation. Then when she dons the war paint for this premiere, she takes off her shoes, albeit after it's over. But that doesn't mean she hasn't gone barefoot at an actual premiere before.
I'm sort of laughing to myself imagining Zuhair Murad pissed off at seeing that photo. Or maybe he's charmed, as well as grateful that she's not letting that borrowed gown touch the ground. I'm also cringing at her bare feet touching that dirty sidewalk, but we've all been there, right? The only time I've ever walked barefoot on a city street was in Beijing, and that was also because of uncooperative footwear. Sometimes it's nice to see that the image of movie stars looking comfortable in their obligatory premiere footwear is just an illusion.
There are so many reasons why Shailene is a goddamn delight. The subtle way she thumbs her nose at the Hollywood game is but one of them.