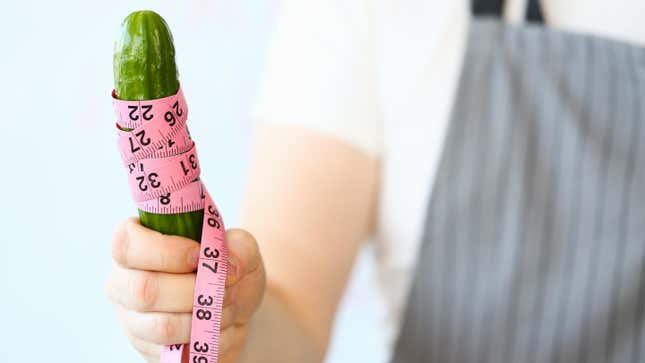 "Swag" was once an aura that could not be purchased. One could only inherently possess swag, and any attempts to acquire swag would only make the individual less swaggy. But those are the days of yore. SWAG has now been commodified, is hot on the market, and is apparently puffing up penises all over New York City. In other words, welcome to the world of penis fillers. Fill that dick, king!
Dr. David Shafer, a New York City-based plastic surgeon, is responsible for the rise in requests for SWAG, or the Shafer Width and Girth procedure, according to Glossy. A far less invasive process than the worrying leg lengthening surgeries popular amongst men with disposable income, Shafer said the idea came about when the boyfriend of one of his women patients asked if he might be able to get the same filler injected into her face into his penis. Six years later, Shafer reportedly does four to five dick filler appointments in a day, each treatment running around $15,000, and has an entire floor at his practice for patients eagerly awaiting inflated members.

For the process, Dr. Shafer numbs the area, then uses a cannula to inject the filler: Allergan's Voluma, a branch of Juvederm fillers. One anonymous patient, "Steve," says he's received nine total sessions, running him around $56,000 over the course of three years. The sessions have increased his dick circumference from 4.75 inches to 6.75 inches, now "significantly thicker" than his wrist. The only way a partner can tell it's not totally the real deal? "It is a little squishier to the touch than a normal erection," Steve told Glossy.

Dr. Shafer claims the procedure is safe, with a "very, very low complication rate and very high satisfaction for the partner, as well" (he is currently conducting an ongoing study with Allergan, though it's important to note that a six-year history isn't nearly long enough to have a conclusive understanding of any potential side effects or long-term byproducts). Though men with micropenis or hidden penis and smokers cannot undergo the treatment, Dr. Shafer's patients range from gay men, heterosexual men, single men, married men, and a number of trans men. But they're not all coming because they have small phalluses—many of the men signing up for dick filler have average size penises and a touch of body dysmorphia.

"I have noticed that nobody is satisfied with what they're born with," Dr. Shafer told Glossy. "A lot of guys who come in say that, when they went through puberty, somebody said something to them in the locker room or their brother teased them—that kind of thing—and it's really emotional for them."

The fact that this procedure is available for anyone with a penis (albeit, absurdly expensive and likely inaccessible to the majority of people who might need it most) is heartwarming. It's both a gender-affirming treatment and a confidence-boosting hack for those who have been unnecessarily bullied or emasculated over the body they were born into. At the same time, its popularity is utterly depressing: Penis filler is really just the same constricting beauty standards plaguing women repackaged for a masculine body. And just because the insecurities of women—notably not invented by women!—have been exploited and commodified to hell and back doesn't make the same exploitation of penis envy any more justifiable.

To all penis-havers out there, please know that your penis is perfect as is, and that any sort of cosmetic procedure is not necessary, unless you personally desire it. AND, at least for now, we support you spending your capital on assimilatory beauty practices, because systemic collective issues are rarely if ever solved by individual action. In short, you do you, kings.