Last night, the NYC Ballet rolled out the red carpet for the world premiere of Paul McCartney's Ocean's Kingdom. There was a lot of black and one very necessary do-rag.
Okay so Stella McCartney is totally fifth season Carrie Bradshaw when she wore really flowy, flippy dresses to hide her pregnant belly, Naomi Watts is second season Carrie when she wore smart pantsuits and dated that politician who wanted to pee on her, SJP is bringing 2nd season flower pin Carrie to seventh season Carrie when she was in love with the Russian and always had really smoky eyes, asymmetrical hem lines, and carefully mussed hair, and Jessica Seinfeld can never be Carrie Bradshaw, because I don't think Carrie ever wore a sheer caftan with large gold paillettes. But seriously, Naomi Watts is a total babe and she makes white so right. Stella McCartney looks adorable in her 80's-style halter dress with a bow-adorned sheer overlay. A lot of people think bows are too juvenile for women of a certain age, and to those people, I say: WHATEVS. Bows are cute.
I feel like SJP's outfit has a lot of potential, but the styling kills it. The metal trim around her bag looks shiny and cheap. The flower pin looks more plastic than I remember it looking the last time she pulled it out, and her pearl cocktail ring is an odd pair with the rest of her rhinestone accessories. As much as I love white, grandma-lace dresses, the proportions on this one are not great.
G/O Media may get a commission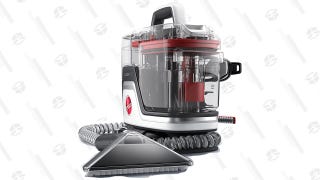 Save $10
Hoover CleanSlate Plus Carpet & Upholstery Cleaner
Cobalt blue looks amazing on Angelica Huston, and I tend to be partial to super simple, long tank dress silhouettes, especially for a babe of Angelica's stature. She did great to accessorize with a stack of gold bangles and a simple drop pendant. I'm gonna pretend she didn't just match her clutch to her dress and not call her out on that, but what I will call her out on is the Botox. We love you, sans injections.
Liv Tyler always gives such good face and hair, but her dress is sad. Not that I want Tyler's dress to smash her boobs together, but it is a little weird that her lace bustier is somehow pulling her ladyknockers father apart. Candace Bushnell went pretty safe for the ballet, but I wish Hollywood would get over the "the nude shoes go with everything!" thing because they do not. Do you think that's a two-piecer on Dylan Lauren or a onesie with a decorative peplum and side sash? As a habitual onesie wearer, I hope it's the latter, but as someone who cares about the feelings of my crotch and other women's crotches, I hope it's the former.
In the couples edition, Bon Jovi and his wife Dorothea look respectable. I'm the not biggest fan of the electrical tape stripe going down the side of Bon Jovi's pants, and the flowy, sheer overlay of the misses' dress makes it all the more obvious that the dress is a bit too tight. Alec Baldwin and Lorne Michaels are tuxedo twins, and Dolenz and his lady Donna Quinter look like they're going to the same event—the mega buffet after the ballet, which probably doesn't exist, but if it does, I want an invite.
So we're bringing the silk do-rag to the ballet now, huh? In that case, fuckyeahwhynotSteveVanZandt. If the Coen brothers make a sequel to No Country for Old Men, they should totally hire former Monkee, Mickey Dolenz, to play an smarmy county sheriff. I could lie and say that Steve Buscemi's grooming is impeccable, or I could be honest and say that he'll always be Seymour in my heart of hearts, and that's all that matters.