Hello and welcome to the high court of shade.
In this week's Shade Court, Bernie Sanders has a rough week, two chefs measure their knives and Zayn Malik leads a dramatic life.
Shade Court Docket #2015JZ000123
The Case: Randi Weingarten is the president of the American Federation of Teachers. As such, she understandably has a healthy interest in the 2016 presidential election. Randi is also not at all afraid to express her opinions on the 2016 presidential election in 140 characters or less.
The Defendant: Randi Weingarten
The Evidence:
G/O Media may get a commission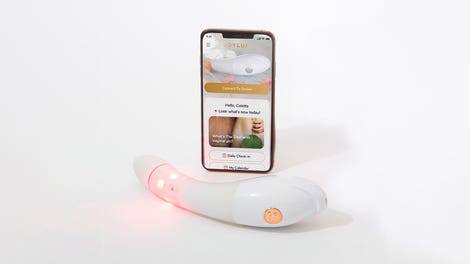 $50 Off
Joylux vFit Gold Device
The Deliberation: Oh man, Randi, this is great. I love shade that starts with a compliment and ends with a dagger.
The approach of, "this hypothetical situation would amazing!" is a great way to shade someone. Randi also throws in some nice little pandering to throw everyone off. Basically, she sort of talks to Bernie (Sanders' Twitter account) like he's a child. Well, no Bernie, you can't have the White House, but you can have this other house which is also very, very special.
She's not even necessarily saying that she doesn't want him to be president, just that he won't be. I LIKE YOUR STYLE, RANDI.
The Ruling: Shade
Shade Court Docket #2015JZ000124
The Case: Alton Brown and Anthony Bourdain are two white men with enormous egos who cook and therefore get to be called chefs. Due to those enormous egos, they spend a good deal of time talking shit about other chefs because the world needs to know who has the sharpest knives.
In an interview with People Alton Brown went in on Anthony Bourdain, probably because he's jealous of his Emmy.
"I don't have to defend my skills against anybody," the Camp Cutthroat host said. "I've got 14 years and 252 episodes of a show called Good Eats that I'm pretty sure I can use as a résumé for my skills."

Brown continued of the outspoken No Reservations host, "When was the last time you saw Anthony Bourdain actually cook anything? I've spent 14 years cooking my own food on television and I've never seen him cook a meal."
The Defendant: People magazine
The Evidence:
The Deliberation: What a wasted opportunity for Alton Brown. Presumably, the People reporter specifically asked him about Bourdain at some point during the interview. All Brown had to do was respond with something like: "I've never seen him cook a meal but I hear he's great." BOOM. Shade on shade on shade.

Instead, Brown takes the super clumsy approach of asking himself a question and then answering it himself. He had the right idea with the whole "does he even cook?" thing because everyone knows that the only things we see Anthony Bourdain doing on television are eating and getting wasted.
The execution didn't come together the way I would have hoped and for that reason, I just can't give it to him.
Can we also talk about People's idiotic headline? Last week I talked about the phrase, "serious shade," which almost certainly means that what follows is not shade at all. Glad to see this theory holding strong.
The Ruling: Not shade
Shade Court Docket #2015JZ000125
The Case: Mashable compiled a nifty little matrix to map out all the racist and sexist ways Donald Trump insults people, ideas and decency.
The Defendant: Mashable
The Evidence:
The Deliberation: At first glance, I was ready to throw in the towel. Here I am, week in and week out, trying to help these wayward media folk not look like idiots and still, nothing has changed. However, when I took a closer look, I realized that I needed to shift my blame a bit.
Oftentimes, the person who writes a story for a website is not the same person who writes the tweet used to promote the story. That seems to be the case here, because nowhere in the actual piece do any of the writers use the word "shade" to describe Donald Trump's bullshit.
Let this be a lesson, writers: Don't let your social media editors write any old kinda bullshit just to make your posts more SEO-friendly. You will look like a fool. Quite obviously, nothing that old sense-deficient blowhard has ever said can be qualified as shade. Relatedly, I am wholly surprised that nobody at Mashable understands what shade is.
I know, I know: I harp. I've been writing this column for a while now, but it's because of shit like this. Words matter and those words have meanings. The collection of words, "throwing shade" mean something specific and (white) people can't just swoop in and fuck up the meaning or use it incorrectly just because they feel like it.
It's almost like they're proud of their ignorance: Oh, well, we at Mashable don't know exactly what all that young people slang means because we write about important shit like GoPros all day long, but tee hee, let's just use it.
No. NO, I SAY. Do not except this subpar behavior when it comes to shade or your esthetician. Life is too short.
The Ruling: Not shade
Shade Court Docket #2015JZ000126
The Case: OH GOOD GOD, THIS GUY AGAIN. Zayn Malik has now dumped his band and his fiancé. As I'm sure you didn't know, Zayn's ex-fiancé, Perrie Edwards. is in a girl group called Little Mix because I guess "contrived and cryptic" wasn't available.
During a recent performance, one of Perrie's bandmates pointed at her while singing the lyrics, "Just to help him see/ What he's been missing."
The Defendant: Idolator, BuzzFeed
The Evidence:
The Deliberation: I'd like to briefly also shout-out this E! Online story which also accuses Little Mix of throwing shade at Zayn for another incident. Being that it is E! Online and their editorial policy seems to be: Make Judge Kara Brown's brain explode, I think we all know that it wasn't shade. Moving on...
Eh.
Eh.
Eh.
I am unenthused by this. In many ways, this seems like a bit of a tossup. That little jab was subtle and certainly got the point across. I can't quite put my finger on how I would describe the stunt, but for some reason, it just doesn't feel shady to me.
Maybe I've just come to expect such excellence in shade-throwing that my tolerance for mediocre, unoriginal shade has diminished. I can certainly imagine a world where I would give this to them but I'm not feeling very lenient today and I just don't want to.
The Ruling: Not shade
---
Contact the author at kara.brown@jezebel.com .
Images via Getty and Wikipedia. Top image by Tara Jacoby, featuring the shade artist at a young age.