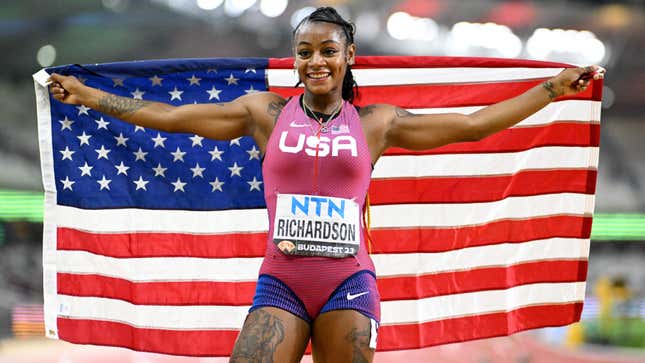 Sha'Carri Richardson was always "that girl." That the 23-year-old is now officially the fastest woman in the world—after getting booted from Team USA in 2021 after testing positive for marijuana—is just icing on the cake.
On Monday, the track star won her first-ever title at a world track and field championship, winning the 100-meter race in Budapest with a time of 10.65 seconds (her personal best), according to the New York Times. This makes her the World Athletics Championships' record holder for the 100-meter and puts her .16 behind the world record of 10.49, which Florence Griffith-Joyner set in 1988. Jamaica's Richardson Shericka Jackson came in second in 10.72, and Shelly-Ann Fraser-Pryce, also from Jamaica, finished third in 10.77.
"Honestly I don't even know what to say," Richardson told the NYT, about an hour after her win. "It's surreal. I think in the morning I'll probably feel it."
And it is surreal. At just 23 years old, Richardson has not only secured her first major world championship title—which was also her first global event since the Olympics—but she also made good on her promise that not only is she back...she's better. In 2021, after securing her spot on Team USA (in the midst of grieving the loss of her mother), she received a 30-day suspension from the USADA and was excluded from USA's Track and Field Olympic roster after testing positive for marijuana.
That marijuana was the only thing standing between Richardson and the Olympics is an indicator of just how antiquated modern sporting standards are. On top of a startling end to her Olympic dreams, she's also been the subject of relentless misogynoir, simply for showing up as herself—orange wig and all—on the track. Still, Sha'Carri vowed to return better than ever.
"I would say 'never give up,'" she told the Associated Press. "Never allow media, never allow outsiders, never allow anything but yourself and your faith define who you are. I would say 'Always fight. No matter what, fight.'"
"These last three years, I've shown you what I can do," Richardson said at the Los Angeles Grand Prix press conference in May. "It just was me that was standing in my way. Now I'm with myself."
The win comes on the heels of yet another breakout moment in which Richardson ripped off her signature wig just before winning the 100-meter final at the USATF Outdoor Championships in July.
"Last time I was really here in a big stadium I had my orange hair, and I wanted to show you guys that I'm still that girl, but I'm better," she told interviewer Tiara Williams in July, after securing her spot in Budapest, explaining why she had removed her wig. "I'm still that girl, but I'm stronger. I'm still that girl, but I'm wiser."