When George Michael died late last year, a big talking point in the ensuing internet tributes was the pop icon's sex positivity. Many people pointed to his refusal to apologize to the public after being outed as gay when he was arrested for masturbating in a Beverly Hills public bathroom in front of an undercover cop in 1998. "I feel stupid and reckless and weak for having allowed my sexuality be exposed this way," Michael told CNN in 1998. "But I don't feel any shame whatsoever, and neither do I think I should."
His iconic status as a shameless gay sex enthusiast is further being upheld by the British LGBTQI history organization Queer Tours of London, writes Towleroad, which has announced a "sexual freedom party" on Saturday, April 8, at the London park Hampstead Heath, which Michael once referred to as "the best cruising ground in London." Says Queer Tours in its release:
On Saturday April 8th on Hampstead Heath, a coalition of London's LGBTQI+ community are organising 'George Michael Wants You' a 'free party to remember the Queer Icon's, life, talent and courage in celebrating sexual freedom.

In the week that George Michael was finally laid to rest Camden LGBT Forum in partnership with Queer Tours of London announce they are working together to organise this event as part of a programme of activity that also marks the 50th anniversary of the partial decriminalisation of homosexuality in 1967. While the passing of this law was a momentous moment in our history we know far too well that it wasn't the end of the struggle.

This fact is highlighted very clearly by the fact that such a confident and successful individual as George Michael still found it impossible to be open about his sexuality in the late 1990's. His sexuality was used to both criminalise and humiliate him; sadly despite his and many others who have bravely fought back this still goes on for so many of us. So we want to use this celebration of one of the LGBTQIA+ community's finest to continue to challenge the barriers that still remain.
Regarding Hampstead Heath, Michael told the BBC News in 2006 (after News of the World ran a story about his cruising proclivity):
I don't know anybody who actually goes to Hampstead Heath at two o'clock in the morning for anything other than the reason of playing about with another member of the human race. If they are there, then they are a little bit strange or they just don't know the local area.

A very large part of the male population, gay or straight, totally understands the idea of anonymous and no-strings sex. The fact that I choose to do that on a warm night in the best cruising ground in London - which happens to be about half a mile from my home - I don't think would be that shocking to that many gay people. Until such time as the straight world is not attacking people for cruising, I'd say the gay world could actually keep that to themselves, just for a little bit longer.
G/O Media may get a commission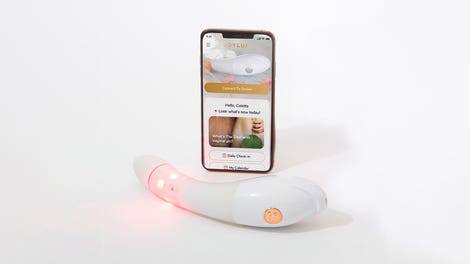 $50 Off
Joylux vFit Gold Device
It's amazing to look back on Michael's attitudes and think how audacious he was to say stuff like this some 20 (or even 10) years ago, when the broader culture was far less invested in LGBT rights and much more openly ignorant. That many queer people still wrestle with sex-associated shame is no secret (and understandable given how little space conversations about queer sex take up in mainstream discourse). Michael once told Q magazine, "You can't become an innovator. You are or you aren't. I'm not." But he was, at least in this respect, a maverick.