For the 20th anniversary of Sex and the City—which premiered on HBO on June 6, 1998 and went on to become iconic prestige television—Jezebel is doing a week of posts dedicated to our favorite band of sexual women friends.
Patricia Field had run her namesake boutique for 30 years by the time Sex and the City rolled around, already a legend of New York for being a style innovator and ahead of most trend curves by... about 30 years. Street culture as crucial fashion cue? Field innovated it. "Attitude" as generational touchstone? She was at the forefront. You, watching Pose right now? Field has been a supporter of New York ball culture for decades, and the legendary House of Field was that not just for her participation but for her inclusion—she employed queer and trans people of color throughout her shop's history, and its many locations, first in the West Village, then the East, and eventually in two adjacent locations on Bowery, its (very) temporarily final resting place.

Sex and the City, though, catapulted Field from America's pulse to its mainstream iconography; the outfitter known for downtown eccentricity suddenly defining womanhood in the millennium via fluffy tutus, calf-length furs, silk bandanas and, lest you've forgotten, Manolos and nameplate necklaces. As the show's costume designer and therefore its spiritual leader (the holy ghost, if you will), Field used Carrie Bradshaw as a vessel to bring New York eclecticism to the world. "Wherever I go in this world, you know, people tell me they recognize me. They tell me how much they loved my work," Field told Jezebel over the phone. "I see a lot of tutus and a lot of tulle skirts on every level from street fashion to designer fashion. I'm happy that people like what I do, and take it into their lives."
But mama is a rolling stone, and among devotees, Sex and the City is just the most celebrated line on the 76-year-old's ever-increasing résumé. (Outfitting every major pop icon of the past 50 years, from Basquiat to Beyoncé, is perhaps her second-most-celebrated.) After shuttering her Bowery store in 2016, Field rebranded her website as Patricia Field ARTFASHION, partnering with artists to sell their one-of-a-kind pieces, an online expansion of the boutique items she always stocked in her store.
G/O Media may get a commission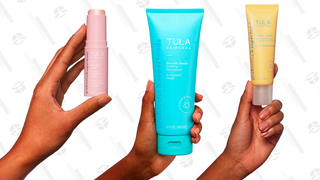 Last week, with the rosé flowing and a phalanx of tiny pups trotting around, she opened ARTFASHION's first storefront—a gallery, she's calling it—inside a residential building on the Lower East Side. ("I love this little gallery of mine," said Field, "because it's in an area that's under the trees and it's not so commercial.") A tiny space next to more formal offices, it feels like a secret hub of off-kilter Fieldian joie de vivre, its walls decorated with photo collages by WOLFEYES and paintings by Ben Copperwheat, including portraits of Field and President Obama that look like the fever dream of a Lisa Frank devotee.
Field is never short of work in film and television—right now she's working on an Angela Bassett/Felicity Huffman/Patricia Arquette vehicle called Otherhood and, thrillingly, getting ready to costume the forthcoming Murphy Brown reboot. But having an IRL space for ARTFASHION was more about what's in her bones, Field told Jezebel. "I didn't want to lose touch with the world in that sense, because in filmmaking or TV, it's a level removed, it's not with the people," she said. "That's something that I've always valued and treasured, and I have a history of working with artists that goes back to the '80s. The year that I was selling my store, my clients were coming in and telling me, 'This is the only place I can shop. Everything is so mass-market, everything is the same.' And for me, it's rewarding to be around creative people. It keeps my life interesting."
Field has been curating pieces for New York's true originals for so long it's almost breathtaking to fathom, but her constant vitality and creative eye is on full display at ARTFASHION, which is fun to browse even if the price points are beyond your means (though for one-of-a-kind pieces painted by well-known artists, it's really quite reasonable; most pieces I perused hovered around $400, with almost nothing over a G). "There's definitely a group that cares about [dressing originally] in New York, particularly since everything has become so homogenized. And my gallery is a wonderful little gallery and it's growing and people are knowing about it," said Field. "But really, you know, Julianne? It's kind of a hobby. I'm not thinking about money with this. I have no expectations." Sure, she's got other gigs, but when was the last time you heard a New Yorker say that?

Patricia Field ARTFASHION is located at 200 East Broadway in Manhattan, or online.