Ha, J.Lo set a very effective thirst trap on Instagram, and multiple lovers, past and present, fell into it and drowned.
Ah yes, I too relax next to my (fake?) fire with my cozy hat and bikini top and razor-sharp abs. The obvious hilarity of this tableau aside, the picture drew the attention of her ex, Diddy, who commented "OMG [heart eyes emoji].
Not to be outdone, her current boyfriend, Alex Rodriguez, posted "Lucky me," with a heart, a baseball and a check mark. I'm not sure what those things mean, so I'm going to read into it and say it's "Wow, with those abs, you can finally play baseball!" Romantic, I guess.
To my knowledge, neither Ben Affleck nor Marc Anthony commented. But if they did, what emojis would they use? That should entertain you in the comments for awhile.
G/O Media may get a commission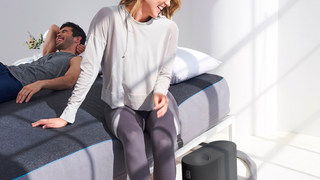 Eight Sleep Pod Cover
---
Internet, if you are good for ANYTHING you will Photoshop this delightful image of pregnant Meghan Markle and a (probably) horny school lad beaming at each other.
What are they both thinking?
Update: I just remembered what this reminds me of:
[People]

---
Kylie Jenner spent $10,000 on Postmates last year, though I guess if we totaled up the average American's Postmates receipts, it probably wouldn't be that much different. [TMZ]

Ariel Winter looks fine. You look fine. I look fine. Everyone looks fine. [Celebitchy]

Lil Wayne is suing his former lawyer. [TMZ]

Quit eating animals, get Beyonce tickets for life?? [Bossip]