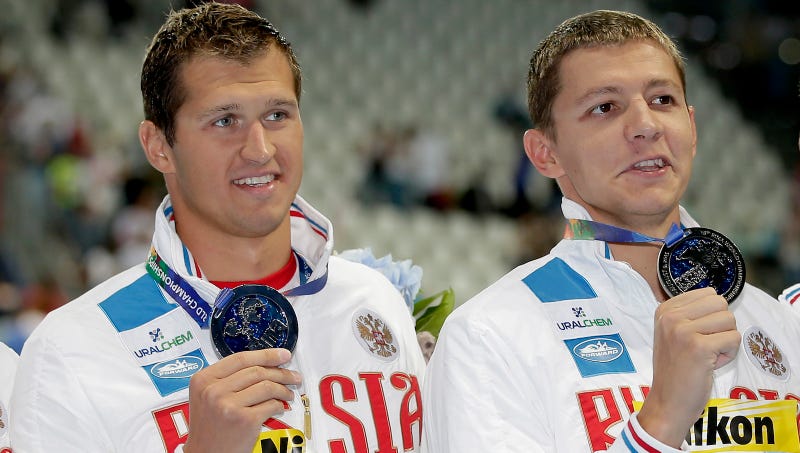 The fall-out from Russia's Olympic doping scandal has been coming in bits and pieces, probably because so many governing sports organizations have to test and re-test Russian athletes. The verdict on Olympic swimmers has finally come down, and it's looking bad for them.
Of the seven swimmers banned from this year's Olympic Games, three are directly linked to the investigation. The Globe and Mail reports that noted swimmers banned from this year's games include 2008 Olympic silver and 2012 bronze medallist Nikita Lobintsev, 2012 bronze medallist Vladimir Morozov (pictured above with Lobintsev) and world junior record holder Daria Ustinova.
Also banned is 100-meter breaststroke champion Yulia Efimova, because she has served a previous doping ban, which world swimming's governing body FINA said would be grounds for banning at Rio. Maybe they're trying to cut back on their work, because the clock is ticking for vetting eligible swimmers for August. There may be as many as 13 banned for previous no-no swim directives.
Two groups that are sailing through testing are Russian archers and horseback riders. Russia may still take home some honest wins, just not in the categories they're used to.