The Happytime Murders is an upcoming "raunchy" movie about puppets who team up with Melissa McCarthy to stop their compatriots from being murdered, while simultaneously appearing to ejaculate silly string from their soft puppet parts. Unfortunately, the above trailer's cursing, drug use, and aforementioned puppet jizz has rattled the folks at Sesame Street, who think the film will cause "irreparable injury" to Sesame's brand, and are therefore suing. NO FUN FOR PUPPETS.
Indeed, as reported by The Blast, the Sesame Workshop is concerned the film will defile the company's family-friendly name, particularly since the film's tagline, "NO SESAME, ALL STREET," specifically references the long-running children's show. According to court documents, the tagline "deliberately confuses consumers into mistakenly believing that Sesame is associated with, has allowed, or has even endorsed or produced the movie and tarnishes Sesame's brand." The court documents claim the trailer portrays "explicit, profane, drug-using, misogynistic, violent, copulating, and even ejaculating puppets," which, in all fairness, it does.
I'm not sure how many parents would confuse the R-rated Happytime Murders trailer, which includes a scene in which McCarthy snorts puppet ecstasy out of a Twizzler straw, with the likes of Follow That Bird, but I accidentally watched Wild Things with my father I was 9, so, certainly, these things can happen. Still, the suit asks STX and Brian Henson (son of late Muppet creator Jim Henson) to pull the trailers immediately, lest any children be turned off Cookie Monster & Co. for life.
Thankfully, STX and Henson have retained the legal services of one Fred Esq, who, per Vulture, released the following statement:
STX loved the idea of working closely with Brian Henson and the Jim Henson Company to tell the untold story of the active lives of Henson puppets when they're not performing in front of children," Fred the Puppet Lawyer said. "Happytime Murders is the happy result of that collaboration and we're incredibly pleased with the early reaction to the film and how well the trailer has been received by its intended audience. While we're disappointed that Sesame Street does not share in the fun, we are confident in our legal position. We look forward to introducing adult moviegoers to our adorably unapologetic characters this summer.
G/O Media may get a commission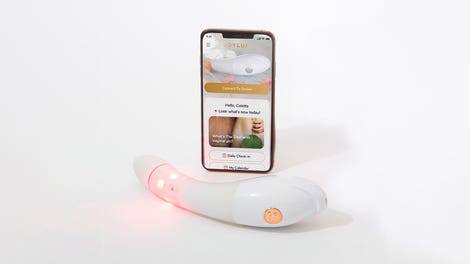 $50 Off
Joylux vFit Gold Device
Fred Esq, FYI, is a puppet.
It is noteworthy that Brian Henson was the brains behind Muppet Treasure Island, indisputably the greatest (and most adult) non-Jim Henson film in the Muppet universe. Though Muppet Treasure Island did not have any drug-using or string semen-spewing characters, it did render this then-child viewer VERY attracted to Tim Curry, so, there's that.