Last night in Los Angeles at the premiere of the film version of the award-winning play August Osage County, formidable actors showed up on the red carpet. Some of the fashion was… a little weird.
By the by: Not only did the play win Tony Awards and Drama Desk Awards, the playwright, Tracy Letts, received the Pulitzer Prize for Drama for this work. Letts is a writer and an actor — you may have seen him as Andrew Lockhart on Homeland. Anyway! On to the clothes!
Digging a windowpane plaid on Dermot Mulroney. Concerned about the hair, though.
G/O Media may get a commission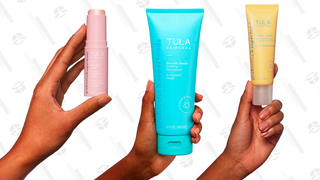 Your ex-boyfriend Ewan McGregor looks sharp in black and white.
Margo Martindale — who won an Emmy for the TV series Justified and has also been in Dead Man Walking, Million Dollar Baby, Twilight and Practical Magic — rocks a cool evening jacket with a statement necklace.
Queen Meryl's white dress and pearl necklace are simple and elegant.
Misty Upham (whom you may have seen in Frozen River) also wore white, a gorgeous ivory gown with some kind of fashion cape. Love.
The gentle green hue of the gown on Julianne Nicholson really brings out her eyes.
Here's where things get a little weird. Juliette Lewis in billowing purple charmeuse. The color is rich and fabulous, the asymmetrical bustline makes it interesting, and the asymmetrical hemline — hitched up to reveal a black tulle underskirt — is fun. And yet! All together it's slightly wonky and a little messy… The seams seem janked up.
More weirdness: Julia Roberts in a penguin suit. I love when ladies do menswear. Lupita Nyong'o in a tux dress, Sharon Stone in a suit, Miley in a white notched-lapel shrunken tux. But this is weird. Maybe it's the dress part? Or the jacket part? Or the way it's not fitted enough or tailored? I don't know, man. I just don't know.
The Award for Weirdest Of Them All goes to Ms. Abigail Breslin. Space bandage? Robot bee? Haute couture rugby? Foil stuck to a baked potato? WHAT IS THIS. If you know, please share with the class.
Images via Getty.