Serena Williams, American treasure and the greatest living athlete according to this person who does not follow sports at all, announced her pregnancy on Snapchat last week to the surprise and delight of her many fans. Not only is she expecting a child with her Reddit co-founder fiancé, she proved that pregnancy couldn't stop her from winning her 23rd Grand Slam! I don't even know what a grand slam is but am certain it's an incredible feat.

What I'm trying to say is that last week was a big one for Serena Williams fans, but it happened by accident. In a TED Talk with Gayle King Tuesday night, she admitted that her "20 weeks" selfie was never meant to be public.
Said Williams, per E! News:
"Well, actually it was an accident. I was on vacation just taking some time for myself and I have this thing where I've been checking my status and taking pictures every week to see how far along I'm going. I didn't tell a lot of people to be quite honest and I'd been saving it. And you know how social media is when you press the wrong button…and..."
And...now we all know. She continued:
"Every week I just take a picture and save it and I've been so good about it and this was the one time I slipped, but it's okay."
G/O Media may get a commission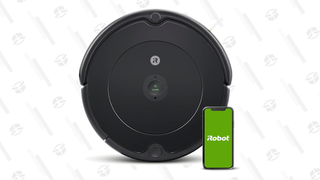 35% Off Black Friday Deal
iRobot Roomba 694 Robot Vacuum
[E! News]
---
Mary J. Blige's marriage to Kendu Isaacs may have fallen apart because of a 28-year-old artist named Starshell whom Blige "signed to her Matriarch Entertainment record label."
Page Six reports Blige was likely "the last to know" that the young woman whose career she'd made a priority was (allegedly) having an affair with her husband. Said a source:
"It's really fucked up and low to have it done to her that way. Had it not been for Mary signing her, investing time and money . . . Because no one cared about her music."
First, what a good drag. Second, this is so tragic.
[Page Six]
---
A very good and satisfying headline.

[ONTD]

---
P.S. please read this sentence: