Last week, Ilie Nastase made a racist joke about the baby Serena Williams is expecting with her fiancé, Reddit co-founder Alex Ohanian. Considering his general lack of relevance, let me explain that Ilie Nastase is an old man who used to be good at tennis and now spends his days verbally harassing young women as the captain of Romania's Fed Cup team. He even throws in some sexual harassment for good measure.

Nastase had this to say about her unborn child:
At a press conference on Friday, Nastase crudely speculated about Serena Williams's pregnancy. "Let's see what color it has. Chocolate with milk?" he said aloud in Romanian, while top Romanian player Simona Halep was answering a routine question about Williams, whose fiancé, Alexis Ohanian, is white.
Ah yes, not only is it racist, but there's the nice additional dehumanization of describing people of color as food.
Today, Williams responded to his remarks with a message on Instagram slamming Nastase from multiple directions:
G/O Media may get a commission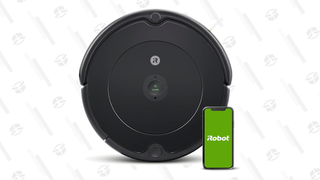 35% Off Black Friday Deal
iRobot Roomba 694 Robot Vacuum
I deeply appreciate the addition of the Maya Angelou quote to highlight her unbotheredness with this stupid white man's racism.
Serena Williams has spent her entire career dealing with ignorant racist rhetoric and assholes like Nastase, so it's no surprise she's able to handle herself with her usual seething composure. Still, it's frustrating that at a time when she sits as the number one tennis player in the world, is celebrating her growing family and hopefully basking in the world's collective awe that she won a goddamn grand slam tournament while pregnant, that she has to deal with shit like this.
Nastase is currently under investigation by the International Tennis Federation for his comments. Serena Jameka Williams is probably going on and living her damn life with the full confidence that she is a better tennis player and human being than all these clown-ass haters.