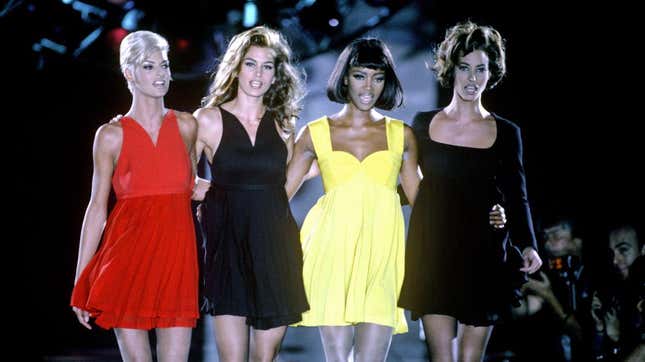 Naomi. Cindy. Linda. Christy. One hardly has to add a descriptor, let alone a last name, when referring to four women whose faces are as supreme—or super, if you will—as their legacies. And while I imagine it must be a daunting task to attempt to capture the impact and glamour of the definitive '90s supermodels' reign in a singular photo, if any single entity is up to the challenge, I'd assume it would be Vogue.
And yet, Anna Wintour's Vogue has failed to meet the moment—yet again—with a September cover that not only shrivels in comparison to the British Vogue offering, but somehow blots out the singularity of the supermodels the magazine once helped launch to fame.

Last month, AppleTV+ announced that it would be releasing a new docuseries in September titled The Super Models, chronicling the lives and lasting impact of these catwalk titans (Cindy Crawford, Naomi Campbell, Christy Turlington, and Linda Evangelista).

"Already forces in their own right, the gravitas they achieved by coming together transcended the industry itself," an AppleTV+ release said. "Their prestige was so extraordinary that it enabled the four to supersede the brands they showcased, making the names Naomi, Cindy, Linda and Christy as prominent as the designers who styled them."

Set to drop on September 20, the series launch timing perfectly teed up a mouth-watering publicity opportunity for the four women: that coveted September Vogue cover, a place these industry legends have taken up residence many times. But instead of being a triumphant return to form and reminder of their staying power, the final cover is less mouth-watering and more dehydrating. Less iconic and more…I-dropped-the-ball.

And many people seem to agree. One would assume that a magazine bursting at the seams with haughty prestige would be more than equipped to handle the images of the household faces they once helped to shape, but the women look like they never stepped foot in the same room; might possibly be strangers; are frozen in time; and/or, perhaps worst of all, like the magnetism they were once celebrated for has been zapped from their eyes.

We know these supermodels didn't suddenly forgot how to model: As writer Meecham "Meech" Whitson Meriweather pointed out, each has recently starred in campaigns where their charisma is as illuminating as ever (Naomi Campbell in the latest Victoria's Secret campaign, for one). To render greats like Cindy Crawford and Linda Evangelista lifeless just goes to show how out of touch the magazine's core creative team is with its still-loyal readers.
Their AppleTV+ series is yet to be released, though, so I'm holding out hope that it delivers an at least slightly better portrait of these greats.