Wanna see Anna Wintour's eulogy for Isabella Blow, André Leon Talley's reaction to being directed to eat lunch in a car, and a tantalizing reference to that time Grace Coddington went to a cat show with Thakoon Panichgul?
The below clip — an extended version of the Coddington-styled couture shoot scene — actually contains one of the film's best lines. "I always say, you only need one person different in the whole team, and you try to take the same picture again, it'll never be the same, because it's all about people. And it's about people's reactions to each other, and it's about a mood, it's about that moment. You know, is the sun in? Or is it out? Is it hot or is it cold? Are people having a good time, are people bored? It's all to do with their personalities." So much time, effort, life, and experience goes into the production of any fashion story, and Coddington expresses very well that curious process by which so much that is broad and real telescopes into pictures that are so small and flat.
And it's nice to see her asking after a piece of strawberry tart on behalf of the model, Raquel Zimmerman.
There is also a scene where Karl Lagerfeld tells a bored-looking Wintour that his latest idea is for there to be separate stores for sales, so that the people who can afford to buy at full price never have to see the people who wait for it to go on sale. Lagerfeld acts like he's very taken with this particular brainwave. Guess he's never heard of Loehmann's.
G/O Media may get a commission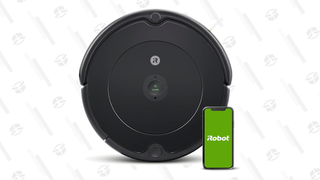 35% Off Black Friday Deal
iRobot Roomba 694 Robot Vacuum
The DVD is released tomorrow.