A single woman who was fired by her Catholic school employer after announcing she was pregnant via artificial insemination says she doesn't regret her decision to pursue motherhood, even though she still hasn't found a new job. She does, however, plan on continuing to sue their holy roller asses.
According to Cincinnati.com, Christa Dias had always loved children and wanted to be a mother. At 31, she decided to pursue motherhood on her own, without a husband, via artificial insemination.
When she was 5 1/2 months pregnant, she asked her employer about maternity leave from her $36,000 per year teaching job and was promptly fired. But it's totally fine, you guys. She broke the rules! The Archdiocese of Cincinnati requires all employees to sign contracts stating that they'll adhere to Catholic social teachings, including the assertion that being pregnant sans husband is a gravely immoral act. Someone tell that to the Virgin Mary.
The school originally said it fired her for being single and pregnant, but they were informed that that's not technically legal, so they changed their tune to say they fired her for becoming pregnant via artificial insemination.
After her firing, she sued her employer for pregnancy discrimination and breach of contract, and insists that her pregnancy and the subsequent birth of her daughter was her choosing to celebrate life, not thumb her nose in the face of Catholic teaching. A spokesperson for the archdiocese says that she has a right to her opinion, but she doesn't have a right to be employed by a Catholic institution that requires her to adhere to a moral code that differs from how she's chosen to live.
G/O Media may get a commission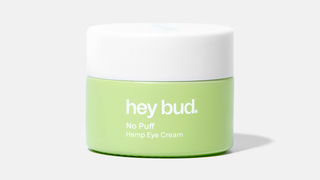 15% off
Hey Bud - No Puff Hemp Eye Cream
The school claims that it's not an issue of pregnancy, but an issue of a contract. Dias says that the "no artificial insemination" rule isn't enforced equally with men. The Church says her lawsuit is akin to the very institution of religion going on trial, and everyone threw their arms in the air and ran around for awhile. Dias has yet to find a new job.
Perhaps appropriately, the man who fired Dias, Rev. James Kiffermeyer, was himself suspended in 2002 after allegations arose that he engaged in sexual misconduct with two male high school students. He was reinstated in 2006. The archdiocese of Cincinnati hasn't escaped the sex scandal that's engulfed the Catholic Church over the last decade or so, either; in 2003, the archdiocese pled no contest to charges they ignored sexual abuse of boys by clergy in the 1980's and 90's. And the two priests alleged to have engaged in the abuse were suspended like Kiffermeyer, not fired as Dias was fired.
But, you know, better mind the uteruses. That's where the ladies store all their Original Sin-causing evil.
Baby worth legal fight with church [Cincinnati.com]