Rob Porter, a senior White House official who oversaw Donald Trump's schedule, has resigned following allegations of domestic abuse. Porter has denied the allegations.
Porter was a low-profile but central figure in the Trump administration. The Washington Post reports that Porter worked closely with Chief of Staff John Kelly to "instill discipline in the chaotic West Wing," as well as overseeing the flow of paperwork to Trump's desk.

In a Wednesday interview with the Daily Mail, Porter's ex-wife Colbie Holderness alleged that he kicked her on their honeymoon, his violent behavior eventually escalating to choking. "It was not hard enough for me to pass out but it was scary, humiliating and dehumanizing," Holderness told the Daily Mail. She also detailed specific incidents of domestic violence, including being punched in the face during a vacation to Florence, Italy. Her interview is accompanied by photographs showing her black eye.
In addition to Holderness's allegations of domestic abuse, Porter's second ex-wife Jennifer Willoughby told the Daily Mail earlier this week that, in 2010, he pulled her naked from the shower and yelled at her, calling her a "fucking bitch." A 2010 police report states that Porter punched the glass door of their home. Willoughby filed for a restraining order shortly after the incident.
G/O Media may get a commission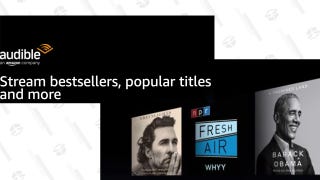 FREE
Audible Premium Plus 3-Month Free Trial
Porter's history of domestic violence was known to the FBI. In a separate Wednesday report, Holderness gave her correspondence with the FBI to The Intercept. The FBI interviewed both Holderness and Willoughby during Porter's required background check to obtain the required security clearance for his job.
When the Daily Mail published Willoughby's account on Tuesday, Porter's former boss, Senator Orrin Hatch, called the allegations "a vile attack on such a decent man."
"Shame on any publication that would print this—and shame on the politically motivated, morally bankrupt character assassins that would attempt to sully a man's good name," Hatch added.
Hatch was joined by the White House, who also weighed in on Porter's good character. Sarah Sanders called Porter "someone of the highest integrity and exemplary character" in her Tuesday press briefing, while Kelly described him as "a man of true integrity and honor."
Axios reports that Porter was not pressured to resign but was encouraged to "stay and fight" by White House officials, including Kelly. Regardless, Porter resigned on Wednesday afternoon. In a statement, he called the allegations "false," adding that the photographs of Holderness were being misrepresented. "I have been transparent and truthful about these vile claims, but I will not further engage publicly with a coordinated smear campaign," he continued. Porter noted in his statement that his resignation is not immediate: "I am deeply grateful for the opportunity to have served in the Trump Administration and will seek to ensure a smooth transition when I leave the White House."