Senators Tom Coburn and Jim DeMint won't let the Smithsonian lease space to a women's history museum — because the ladies already have their quilting museums, and because someone told them the museum was going to be pro-abortion. Seriously.
Above, Meryl Streep's awesome speech on behalf of the museum. (She herself donated $1 million to the museum. Essentially, all anyone is asking is that the Smithsonian be allowed to lease space a block from the National Mall, a request that's been submitted every year for seven years — and been rejected each time.
In other words, Streep said, "We're not asking them for a check. We want to give them a check."
Coburn and DeMint have put a hold on the request because they claim that someday, this museum will want a subsidy because it doesn't have a lot of money raised so far. But that's not the whole story, according to USA Today:
Abortion politics are also in play: The senators' action came two days after the Concerned Women for America, a conservative group, wrote DeMint asking for a hold. The group's CEO, Penny Nance, wrote in July that the museum would "focus on abortion rights without featuring any of the many contributions of the pro-life movement in America."
G/O Media may get a commission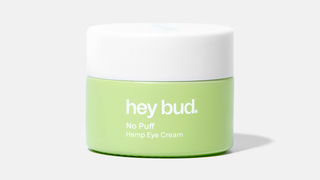 15% off
Hey Bud - No Puff Hemp Eye Cream
The CEO says that isn't going to happen, "because we have to raise $400 million. We cannot afford, literally, to focus on issues that are divisive." But who needs facts when you can grandstand and win points with the base?
Another reason the senators gave was that the museum was redundant. Gail Collins asked Coburn's office to elaborate, and they did: "They include the Quilters Hall of Fame in Indiana, the National Cowgirl Museum and Hall of Fame in Texas and the Hulda Klager Lilac Gardens in Washington," she writes. "Senator Coburn's list pretty much proved the point that this country really needs one great museum that can chart the whole, big amazing story."
Or maybe that the ladies should be satisfied with their lilacs and quilts. Oh, and their unwanted pregnancies.
Coburn, DeMint Block National Women's History Museum Because 'Quilters' And 'Cowgirl' Museums Already Exist [Think Progress]
Two Senators Put Hold On Women's Museum [USAT]
Unhold Us, Senators [NYT]