The presidential election isn't the only nightmare awaiting us in November. Welcome to Congressional Cacophony, a new feature on The Slot about House and Senate races that really, really matter. Suggestions? Pitches? Email us.

Pennsylvania Senator Pat Toomey, a Tea Party Republican, is polling at a statistical dead heat with Katie McGinty, the Democrat who's challenging his seat. That would be interesting enough, even without all the other stuff the two are feuding about: Hillary Clinton, gun rights, and why Toomey once sat on the board of an odd conservative for-profit school, one that teaches that "gender studies" classes will transform your daughter into an angry lesbian.
Toomey has held the junior senator's spot since 2011; he's an anti-abortion conservative Republican who was excited about defunding Planned Parenthood and not excited about same-sex marriage (although he does distinguish himself from other Tea Party politicians by at least nominally supporting anti-discrimination measures like repealing Don't Ask Don't Tell.) He's also one of the cadre of Republicans refusing to look at or even consider Obama Supreme Court nominee Merrick Garland. He shows streaks of moderateness in other ways: he signed onto a gun control bill after Sandy Hook, for example. (McGinty has since accused him of "disavowing" that bill; Politifact rated McGinty's statement "mostly false.")
McGinty is about as diametrically opposed to Toomey as you can get: she served as an environmental policy advisor in the Clinton administration, worked for the Pennsylvania Department of Environmental Protection, and ran unsuccessfully for Governor in 2014. If elected, she would be the first woman to become Senator in the state. This morning her campaign is visibly delighted about a report from The Huffington Post that Toomey sat on the board of Yorktown University, a real weird place:
G/O Media may get a commission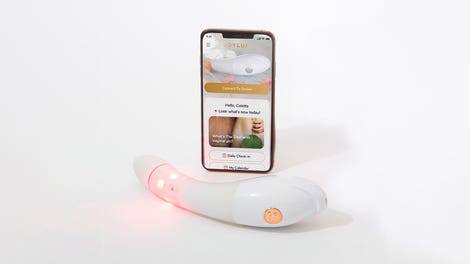 $50 Off
Joylux vFit Gold Device
HuffPo's Laura Bassett reported that Toomey served on the board of Yorktown from 2007-2009, invested in it and appeared in promos for the school, which was founded, she writes, "as a conservative counterweight to mainstream schools" and which "offered courses that railed against political correctness, feminism, egalitarianism and multiculturalism."

Bassett describes some of Yorktown's offerings and philosophical underpinnings as "unconventional," which, yeah:
One online lecture Yorktown promoted in 2012 warned parents of the "dangers" of gender studies programs at other universities.

"Your daughter will reject the religious and moral codes you raised her with," a press release for the lecture warned. "Your daughter will distance herself from family and friends. Your daughter will change her appearance, and may even change her sexual orientation. Your daughter will end up hating you (her father) and pitying you(her mother). After your daughter has completed her reeducation, you will certainly be out tens of thousands of dollars and very possibly lose your daughter."

While Yorktown's faculty included some credible scholars, the school also offered a free lecture criticizing art history and a class that described popular music, modern art and psychology as "signs of serious cultural disturbance." Another lecture defined political correctness as an attempt to limit free thought "by intimidation, force and other forms of coercion."
Toomey's campaign spokesperson told Time a few days ago that he was never involved in the school's day-to-day, but in a year of Trump University, it could still make a sizable difference.
The polls continue to show that Toomey and McGinty are closely tied, unless he'd be willing to change his stance on holding an appointment hearing for Merrick Garland. For now, he's just one point ahead of McGinty in most polls; it's too soon to tell whether his support for Yorktown and its weird thoughts about women will do anything to change that.
---
Photos via AP