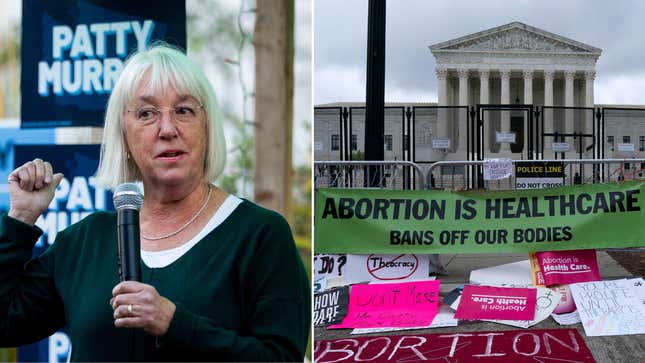 In the handful of states that have banned abortion since June, accessing abortion now requires pregnant people to navigate an even more convoluted web of costs and barriers. The average travel time for people seeking abortion has tripled since the Supreme Court overturned Roe v. Wade, according to a recent study in the Journal of the American Medical Association

Alison Leiby Believes Abortion Can Be Funny — Really Funny!
Last week, Democratic Senators Patty Murray (WA) and Tammy Baldwin (WI) introduced the Reproductive Health Travel Fund Act, which would authorize the Treasury Secretary to annually award $350 million in grants to organizations that help people pay for the associated costs of getting an abortion. The bill would prioritize groups that help abortion seekers based in states where abortion is banned or more severely restricted.
The Reproductive Health Travel Fund Act stipulates that the range of costs abortion seekers may encounter in trying to get the health service includes transportation, lodging, lost pay from time off work, child care, meals, and translation and education services for non-English speakers. Murray and Baldwin's proposed fund wouldn't pay for the abortion itself, as the Hyde Amendment prohibits federal funding from covering most abortions—but the bill is an important step toward recognizing that no one should be forced into debt for choosing to not be pregnant.
In a phone interview with Jezebel on Wednesday, Murray acknowledged that her bill faces an uphill battle, as Democrats hold only a narrow majority in the Senate, and of course, Republicans flipped the House last month. But Democrats are finally starting to think about how to be more proactive on abortion, rather than just playing defense every time Republicans introduce a ban. "I've been here long enough to know that when the American people stand up and demand action, that's how you get things done," Murray, who was elected to the Senate during 1992's Year of the Woman, told Jezebel.
The aftermath of the fall of Roe has made her more certain of this. Through the midterm elections, voters "sent the clear message" that they want action from lawmakers on abortion, the senator said. That's how Senate Democrats—albeit narrowly—increased their majority in November. Now, the onus is on them to act.
Murray also argued that bills that may seem "radical" can ultimately be successful in time: "As we just saw with the marriage equality bill [Respect for Marriage Act] passing, times change," she said.
Since states like Tennessee, Missouri, Texas, and others moved to ban—or, for Texas, further ban—abortion post-Roe, in a number of cases, pregnant people have had to travel out-of-state for abortion to survive. In October, a Tennessee woman had to take (and pay for!) a six-hour ambulance ride to North Carolina to obtain a life-saving, emergency abortion. A Missouri woman whose state senator referred her to an anti-abortion crisis pregnancy center after her water broke at 18 weeks was forced to travel to Illinois for an emergency abortion. And in September, affidavits from doctors in Ohio claim that several underage rape victims, including one as young as 10, had to travel across state lines to get an abortion.
In addition to associated costs of traveling for abortion, abortion patients and those who help them could also be forced to foot substantial legal bills, as anti-abortion lawmakers and local police departments move to criminalize abortion and pregnancy outcomes.
Murray told Jezebel that the Reproductive Health Travel Fund Act was shaped by post-Roe anecdotes that have emerged in recent months—as well as the knowledge that these stories are the tip of the iceberg. "There are absolutely women who have unbelievable stories that they have shared with me, but it's very hard for them to be public about it. They may live in a state where it is a crime to do so," she said. "The silencing of women who are facing this issue is really a tragedy."
The Washington senator acknowledges that since the fall of Roe, top Democrats have faced criticism for not acting to protect abortion sooner. "I will say that for most of my career, people just didn't believe anybody who said Roe was going to be overturned, that we were threatening something that would never happen," Murray, who will assume the role of president pro tempore of the Senate next year, said. "Well, that's all changed very dramatically."
Among voters, Murray says she's glad to see people "standing up, saying the word abortion out loud," and that "there's been a sea change in how we're talking about and acting on abortion." Her and Baldwin's bill is just one part of this "sea change."