Senate Democrats are still holding the floor in a 24-hour push to derail Betsy DeVos's nomination for Secretary of Education, which for absolutely no logical reason will likely squeak through anyway.
During Sen. Tim Kaine's shift in the wee hours of the morning, the Virginia Democrat reminded the room of one of the original purposes of the voucher system DeVos supports: segregation.
"After the Brown vs. Board decision was resolved, many states fought against integration for a number of years," Kaine said. "And Prince Edward County did something that no other jurisdiction in the United States did. They said, okay, if we have public schools we're required to teach kids equally based on the color of their skin. I have an idea: We will close all our public schools."
Sen. Kaine continued: "So Prince Edward County, for a period of five years, shut all their public schools. They used county funds and state funds to support vouchers to private schools, and they gave those vouchers to students who were white so they could go to private schools... In Prince Edward County, white students, if they were wealthy enough, could go to these academies with some state support, but poor white students and African-American students were deprived of education for 5 years. I think you can start to see why supporting public education today is very, very important in Virginia—because in my lifetime, we didn't."
G/O Media may get a commission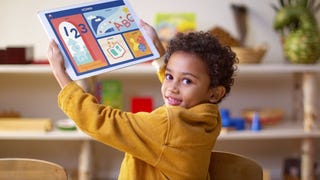 30-Day Free Trial
Homer Learn & Grow Program
Today's voucher advocates aren't explicitly advocating segregation, of course, but vouchers funnel taxpayer funds away towards private and religious schools (it would appear that for DeVos, the emphasis is on the latter) that enjoy little oversight. In DeVos's home state of Michigan, she was not successful in pushing a voucher system, but in the meantime she funded a relentless campaign to expand the state's for-profit charter system and derail attempts at regulation; the New York Times reported that this helped lead to what one critic called "a total and complete collapse of education" in the city of Detroit.
From Politico:
In Detroit alone, about 70 percent of charter schools ranked in the bottom quarter of the state's schools, according to an Ed Trust-Midwest report using data from the 2013-2014 school year. The foundation has called the quality of the city's charter-school sector a "civil rights issue."

Detroit Public Schools overall rank last out of large urban school districts nationwide for the performance of African-American students in eight-grade math. But the majority of charter districts statewide perform even worse than the city school district for African-American students in eighth-grade math, the report noted.
DeVos's confirmation vote is scheduled for noon today. Unless a third Republican has a last-minute change of heart, Vice President Pence is expected to use a historic tie-breaking vote to confirm her.