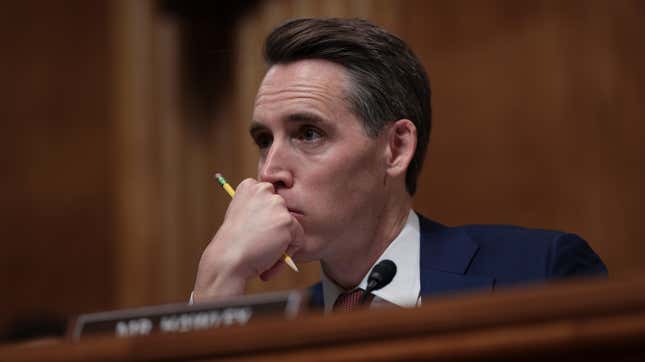 On June 19th, 1865, Union Civil War soldiers informed enslaved people in Texas that they were being freed. Slavery continued to flourish in this country for long after that day, in actuality, but Americans nonetheless celebrate emancipation on Juneteenth—an official federal holiday since 2021—every year.
For white people, June 19th is a great day either to read and amplify Black voices and Black history and consider the racist underpinnings of this nation, or at least shut the fuck up if you're uninterested in doing the aforementioned. Unfortunately, many white people—particularly Republican white men—find themselves incapable of any kind of self-reflection on this day and instead vomit their fragile, defensive feelings on main. Exhibit A: Sen. Josh Hawley (R-Mo.).
"Today is a good day to remember: Christianity is the faith and America is the place slavery came to die," the Missouri senator tweeted, managing to fail at both grammar and a basic grasp of history.
In reality, as Jeet Heer and many others pointed out in response to Hawley's inane commentary, the United States lagged decades behind most other countries in the Western hemisphere in abolishing slavery. England, Mexico, France, and Denmark had all ended slavery before we adopted the 13th Amendment in 1865.
And while it's unclear from a logical or even syntax perspective what "Christianity is the faith" is supposed to mean in that tweet, Hawley also seems to be whiffing on the irony that Americans used Christianity to justify slavery in the first place. Frederick Douglass had this to say on the subject:
"Between the Christianity of this land and the Christianity of Christ, I recognize the widest possible difference—so wide that to receive the one as good, pure, and holy, is of necessity to reject the other as bad, corrupt, and wicked. To be the friend of the one is of necessity to be the enemy of the other. I love the pure, peaceable, and impartial Christianity of Christ; I therefore hate the corrupt, slave-holding, women-whipping, cradle-plundering, partial and hypocritical Christianity of this land. Indeed, I can see no reason but the most deceitful one for calling the religion of this land Christianity…"
Of course, Hawley was not the only right-wing white man to make an absolute ass out of himself on Juneteenth this year. Charlie Kirk, founder of Turning Point USA, took a more bluntly racist approach, arguing this shouldn't be a holiday at all because it "competes with" (white people's) July 4. God forbid!
And former Wisconsin Gov. Scott Walker (R) posted perhaps the dumbest tweet of them all, apparently forgetting the century between the Declaration of Independence and the Emancipation Proclamation: 
Of course, none of this reveals anything new or surprising about these men or the movement they're leading; these people are literally banning books that mention race because they want to keep kids as ignorant of American history as they are. As ignorant in general, I suppose.