Behind some of the Sixties' most iconic images — on Esquire covers, in advertisements — was adman and art director George Lois. So what's up with the girl in the garbage can? Inspired by his recent book, we asked him.
Lois, 78, is probably best-known for Esquire covers like Andy Warhol drowning in the soup can or Muhammed Ali as St. Sebastian, recently on exhibit at the Museum of Modern Art and compiled in his most recent book, George Lois: The Esquire Covers. (Legendary ad campaigns like "I want my MTV" and for Tommy Hilfiger followed.) But there was another wave of social change while he was working — the one that involved women, gender, sex — and some images to reflect it, and Lois was game enough to talk about it one recent afternoon.
He had been told that this is a site for women, which may be why he chose his words carefully at times: Semi-apologetically referring to secretaries who read Cosmo because "there weren't a lot of management women back then," making sure to refer to the models he worked with as "terrific women." But his swaggering, staccato charm is decidedly vintage. Not long after I asked if I could interview him at the screening where we met, he tapped me on the nose, saying, "You're cute as hell." It was hard to get him to stop talking about boxing. He alternately apologized for his language and cheerfully gets salty. Later, after he eagerly submitted to hours of storytelling at his West Village apartment, he signed my copy of the Esquire book, "With admiration and love."
Here's what he told me.



G/O Media may get a commission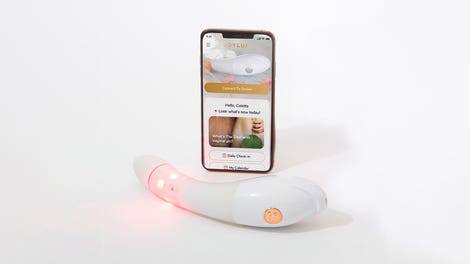 $50 Off
Joylux vFit Gold Device
This 1967 cover may well have inspired a tradition of images of women in the garbage can, including most recently in Details. "So I had her with her tush in her garbage can," said Lois. "I gotta tell you, some women hated it, but plenty of them were laughing their asses off. My wife said that she went to a beauty parlor that week, the month when it came out, and they hung it in the beauty parlor and the women were laughing their heads off."
He doesn't really remember what the article was about, but according to a 1967 Time article, it was so heavily revised, "seemingly to fit the cover illustration," that the writer took his name off of it. "The article described a pseudotypical Los Angeles woman, prone to suicide, sexually jaded, hooked on pills and astrologically obsessed, who was supposed to be the wave of the future for all American women coming into their early 20s," Time went on.



It wasn't the first time Lois had put a woman on the cover, though his favorite Esquire covers involved boxers and politics.
"When I was doing Esquire, I was saying to men, Don't be a schmuck. Read this magazine. It's an important and exciting magazine," he said. "I wasn't saying, Hey, look at this magazine, it's full of pussy, you know what I mean? That's the last thing I wanted to say. And that's the last thing it was."
But the magazine's editor, Harold Hayes, was under pressure from the sales staff to do "girlie" covers featuring attractive women, according to Lois. "They were incredibly stupid people," said Lois. "Hayes was turning out the greatest magazine he could possibly turn out. The last thing the magazine should do is create a magazine for their publishers, so that their advertisers like it. You shouldn't even be doing a magazine that you think your readers might like. What you should be doing is turning out a magazine that is right for the times."
This 1966 cover with Italian actress Claudia Cardinale, who had starred in 8 1/2, was his compromise, Lois said. "I did it kind of shamefully," he says. "I said, 'What the hell. I said, 'Can we get a hot looking woman and get her on a bike sticking her ass out, almost like a parody of a girlie cover. And I got Claudia Cardinale. It was a big seller, Harold Hayes said. I said, 'Bullshit.'"



This 1964 cover, which asked airlines to send along their best looking flight attendants, was another concession to pressure to do "girlie covers," Lois said. "I did it as kind of a fuck you to the girlie covers. And then it was pure fun."



Speaking of fuck yous, this cover mocked fashion's artifice. "The models, they spend hours being made up, but they always showed up dressed like this," said Lois. "I used to joke around with my models when they came in casually dressed and say, 'Oh, if I'd seen you like this, I never would have hired you.'" Lois said he offered the assignment to Jean Shrimpton and Suzy Parker, but was turned down. Model Dolores Wettach, he said, disobeyed her agent at Ford to do it.
"I called her up and she said, 'Screw them, I'll do it.' The woman who runs Ford called me up very mad at me. I said, 'My god, you shouldn't treat your models like they're dolls. They're terrific women.' In fact, I used some of them as comedians in my commercials because they had more talent than just looking pretty."



Speaking of artifice, this is an ad that Lois's agency did for Coty creamstick lipstick.
"The line was, 'Buy this lipstick and I don't care what you look like, if you put this lipstick on, it will make you beautiful,'" recalled Lois. "Well, it was such a ridiculous statement, that it became the biggest selling lipstick for the previous five or six years. What it basically was saying to women is, this is ridiculous. Hey, lipstick is lipstick. If you put it on, you'll look good. But it ain't gonna change you from your face from Alice Pearce to Joey Heatherton. They were shocked, but they let me do it. And it was a success, because they finally realized that women have a sense of humor, that women understand that putting a Coty lipstick instead of a Revlon lipstick will not make you into the most beautiful woman in the world."



Speaking of the feminine ideal, Lauren Hutton posed for a cover that, Lois writes in his book, "dealt with a macho piece in Esquire on fantasy women, written almost instinctively as a defense against the budding feminist war on the atmosphere of sexism that had been a way of life in America." Hutton was styled to at once embody four "naughty dreams" of the American male: the virgin, the French maid, the babysitter, and the sadist. "That she wound up looking nuts, or possibly like an avenging feminist ax murderess, added to its accuracy," Lois writes.



Three years earlier, Lois had already begun dealing with the blurring of gender roles in America. He had tried, and failed, to get Marilyn Monroe, Jayne Mansfield, or Kim Novak to do this. Instead, he got Italian actress Virna Lisi to illustrate a story about "the approaching confusion between the sexes." (She was about to star in How To Murder Your Wife with Jack Lemmon.)
"It was really pre-feminism," Lois told me. "But if you were back then you could see it coming. You could see women getting stronger, you could see women not taking any more shit. There wasn't a full movement but it was happening. They interpreted it as masculinization. It was a little bit of an insult but back then — it was way back in '65 — nobody took it as an insult."



By 1971, there was no denying that something more profound than a cute blond lady shaving was afoot, and the debate had gotten rather heated. This cover imagined fierce rivals Norman Mailer and Germaine Greer enacting the "King Kong schtick that they fall in love," as Lois put it. "They both hated it, but she didn't hate it as much as he hated it." He said Mailer angrily called Hayes, screaming at him. "Then Mailer called me, 'That fucking cover…' The guy was nuts. He was insane, he once stabbed his wife. With a knife, you know. With a kitchen knife. That's why he can't have kitchen knives. He can't have guns and he can't have kitchen knives." Mailer, he said, challenged him to a fight in Central Park the next morning. "I said, oh, this is the biggest deal of my life. I have the chance to kick his fucking ass! I never turned down a fight from anybody." But Mailer never showed, and decades later, he boycotted a Vanity Fair photo shoot about the golden age of Esquire with Lois and the rest of the old gang.



Lois ran afoul of the women's movement in other ways. This 1967 cover featuring Bond girl Ursula Andress illustrated a package on violence in America. Lois writes in the book that after it appeared, the National Organization for Women "busted my balls. (Beats me why.)" (Get it?)
Pressed to elaborate, he recalled a later conversation with NOW activists after they picketed one of his advertisements. "I said to them, 'I never understood what you were angry about.' And they said, 'You should have shown a real battered woman. You glamorized it.' And I said, 'Well, nobody saw it that way. If you showed the real battered woman, that's a cover for Life magazine…. What I did was show a beautiful woman and have her say, I'm here for my sisters who are being battered.'" He adds, "I think Esquire was ahead of NOW when it came to battered women."
That conversation, by the way, happened after NOW picketed in protest of a commercial for Lois did for Olivetti typewriters that enshrined the "Olivetti girl."
Lois met their complaint that women were always portrayed as secretaries by depicting a female boss sexually harassing Joe Namath (seen above). "They were watching this thing and by the time it was over they were furious at me. They walked out, you know what I mean? I kind of put one over on them. You want me to show a male secretary?"
Lois has been married for almost 60 years to Rosemary Lewandowski-Lois, whom he fell in love with on the day they met, the first day of art school at Pratt. "She worked as an art director," he said. "She could have been a great art director. But thank God she agreed with me that she would stay with the kids." When I asked him why he was thanking God, he just said, "She took care of the kids and that got her to be an artist. She got a studio and that's her talent." And he directed me to her website.
On my arrival, he had uneasily eyed his own glass and mumbled something about his wife being at a matinee, apparently in explanation of why he wouldn't be offering me anything to drink. When his wife finally returned, he breathed a sigh of relief. "I'm not a male chauvinist," he said as he walked me to the elevator, "but she's here just in time to feed me."


Related: Magazines: Look How Outrageous!" [Time]
George Lois Tells the Stories Behind His Twelve Favorite Classic Esquire Covers [NYM]
George Lois: The Esquire Covers [MoMa]
George Lois: The Esquire Covers
Earlier: Legendary Magazine Designer Has Righteous Rage At Today's Glossies