Kids aren't always the selfish, dream-devouring monsters we may think they are. In fact, sometimes they're really selfless, like, Patch Adams selfless only without the mitigating annoyance of sitting through a basic cable edit of Patch Adams while your grandmother asks for the sixth time if the the doctor with the clown nose is played by the robot from Bicentennial Man.
Ana Gasteyer Satirizes the Girl Boss in 'American Auto'
The Omaha World-Herald reports that on Wednesday, fifth-graders from St. Margaret Mary Catholic School in Omaha were given one of the best of all unexpected childhood gifts — a snow day. However, rather than waste it on building ice forts and creating snowball munitions bunkers, these fifth graders marched to the Children's Hospital, situated themselves within view of the sixth-floor windows, and made snow angels for their ailing classmate Lauren "Lolo" Hacker, a ten-year-old girl who was diagnosed on Dec. 12 with acute myelocytic leukemia.
Lauren's been through a rougher two months than any kid should have to experience, and her family has been obviously devastated by her ongoing treatment. It's nice to see a snow day sacrificed for the greater good, even if that good is just letting a sick friend know that they haven't been forgotten.
How did fifth-graders spend snow day? Being angels for sick classmate [Omaha World-Herald]
G/O Media may get a commission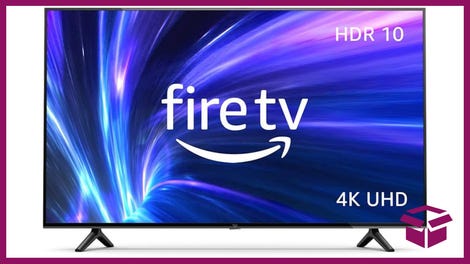 42% Off
Amazon Fire TV 50" 4K Smart TV
Image via Arsentyeva E/ Shutterstock.