On a scale of 1 to Daddy Issues, Selena Gomez ranks among Sylvia Plath, Angelina Jolie and the daughter of the Dos Equis guy, if he has one. Not to mention, let's be honest, most of us.
She lightheartedly told Harper's that her divorced father used to spend quality time with her. Oh, did I say "her"? I meant "tits." She was there too, though.
"When I was 7, my dad would go to Hooters to watch [San Antonio] Spurs games. But he started noticing that when I would come, with my little pigtails, all the waitresses would be like, 'Hey!' So he ended up half spending time with me but with all those cute girls coming over. And that would be our thing."
Perhaps a partial explanation for her former relationship with non-threatening rice cake Justin Bieber? :-\ I mean, if dating him IS actually just like in his perfume ad, that kid would never go to Hooters. [NY Post]
---
G/O Media may get a commission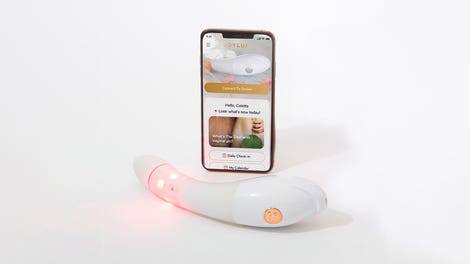 $50 Off
Joylux vFit Gold Device
After 16 and a half years on The View, veteran squawker Joy Behar is leaving the show for greener pastures: specifically, "an intelligent talk show where you have room to breathe" (ZING), playwriting, and naturally, stand-up, which she says she's been neglecting. Say that now, Joy Behar. But when you're in the damp-floor basement of McNamee's Town Tavern on open mic night, doing a routine about menopause to Paul the real estate novelist and Davy who's stilll in the Navy and probably will be for life, talk to me then. [Deadline]
---
Honestly, can you think of a better celebrity threesome on a Mexican vacation than Reese Witherspoon, Cameron Diaz and Drew Barrymore? Apparently new moms Reese and Drew became friends over "losing the baby weight" (guh), while Cammie, who covers more of the tequila-and-regrets territory than the other two, can "work out all day and relax." Let's join them! I can't afford a plane ticket but I'm flapping my arms really hard right now. [Us Weekly]
---
Alec Baldwin and Hilaria Baldwin nee Thomas are having a girl, yet another baby that will undoubtedly be lost in the shadow of the Royal Baby. If Kimye's kid is The (Second) Most Important Baby of Our Time, does that make Female Baby Baldwin... third? IDK IDK. Feel free to throw more babies in the ring (though not literally please).

---
Rihanna's mom Monica got wind of her salacious Instagram and chewed her out on the phone.
"I'm not afraid of any person in this world, but my mother, I'm terrified of her. She called me two days ago and reeled me in about two naked pictures Melissa put up on Instagram – a sneak peek from a photo book she's making about me. She went crazy on me. I was, like, embarrassed. I felt like I got my ass whipped in front of my class at school. She humbled the fuck out of me."
[The Sun]
---