In the upcoming issue of V Magazine, Selena Gomez goes into detail about her intense romantic relationship with Justin Bieber, false king of the Seven Kingdoms. "I think the next time [I have a boyfriend] will be much different," she says.
Gomez goes on to tell interviewer James Franco,
"I was 18 years old, and it was my first love. The older I get, I'm guarding certain things more...When you're young and you're being told so many different things...It almost felt like all we had was each other, like the world was against us, in a way. It was really weird but it was incredible...I would never take it back in a million years. You live and you learn, you know?"
And now that she's moved on,
"I think this year is going to be incredible. I feel the best I've ever felt in my life. I'm super stoked that I've got some bumps on me, some scars, some bruises. I actually really love that. And I don't mean that in a morbid way."
G/O Media may get a commission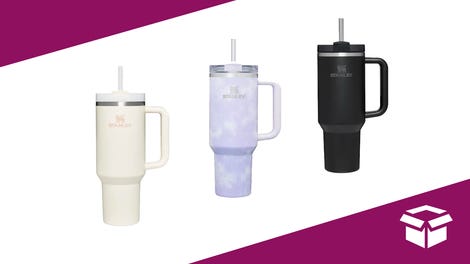 Up to 45% off
Stanley Cup Sale
Good for you, Selena.
[POPSUGAR]
---
Kanye West says he lost several friends after he started dating Kim Kardashian. "As soon as we started dating, fashion people were really opposed to the idea of reality stars," he told Style.com. "And all the relationships the somewhat friends that I had somewhat built up, completely turned their backs on her and me. They already had their back to her, and now they've turned it to me." [Page Six]
---
Appearing on Ellen, Keira Knightley (jokingly) detailed her birth plan: "[I'll] drop it out, keep working."
The actress also mentioned why she's nervous about the possibility of having a boy, saying, "Somebody said to me the other day, [that] the problem with boys is — sorry this is horrible — but when you're changing their nappies, you can get the wee in your face."

I'm going to assume that's not so much literal as much as it's a metaphor for the patriarchy. [US Weekly]
---
Photos via AP.