Last week, Kathy Ireland went on Entertainment Tonight and spoke about her mentor Elizabeth Taylor's activism on the issue of AIDS. It was packaged as a bombshell: Taylor ran a Dallas Buyers' Club-style operation out of her Bel-Air home, getting experimental drugs to AIDS patients. Or did she?
Over at New York magazine's Daily Intel, Walter Armstrong casts a skeptical eye upon on the (admittedly wonderful) story. Taylor's tireless work in the fight against AIDS isn't in question—Armstrong says she raised something like $270 million for the cause. But he talked to fellow activists from the era and he wasn't the only one who thought this particular anecdote sounded off. For instance he spoke to Sally Morrison, who worked on amFAR's PR, who said, "I don't think Kathy Ireland's story is true," adding:
"I know that Elizabeth was very supportive of the work that Project Inform was doing with experimental AIDS drugs. She contributed to the organization as a private person. And she encouraged amfAR to include some experimental agents in our treatment information. But running a West Coast buyers club? That's a bit of a stretch, isn't it? But if she were alive today and you asked her, she would probably say, 'I wish I had done that.'"

It's hard to prove conclusively Taylor didn't, but there's not much evidence she did, either. Armstrong also spoke to Taylor's longtime publicist, who said, "I have no knowledge at all about this." Though she does remember "participating with her in a Lower East Side needle exchange program at a women's shelter," which is pretty badass.
And in fact when Armstrong called Ireland's publicist, he was informed that she "never said or even acknowledged that Elizabeth Taylor ran a 'West Coast buyers club.' This was [a] reporter's common-knowledge reference for the audience to another humanitarian story of compassionate assistance of AIDS sufferers." The publicist said Taylor was just running a "safe house," which isn't quite so eye-popping.
G/O Media may get a commission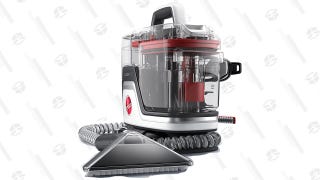 Save $10
Hoover CleanSlate Plus Carpet & Upholstery Cleaner
None of this erases the very real work Taylor did, which was substantial. (She makes a striking contrast to former actor Ronald Reagan's slowness to act.) But as Armstrong points out, there was a real buyers' club on the West Coast, and making the story all about Liz risks crowding out the substantiated tale of Jim Corti and Marty Delaney and Project Inform. He recommends the 1992 book Acceptable Risks and quotes a New York Times review:
In 1984 Mr. Corti, a gregarious medical nurse in Los Angeles, fell by chance and compassion into the role of drug smuggler. At the request of one of his patients he traveled to Tijuana, Mexico, in his yellow minibus (dubbed the Virus Van) to purchase ribavirin, a cold remedy sold over the counter outside the United States but not approved for AIDS treatment here....

A business consultant in Sausalito, Calif., Mr. Delaney founded Project Inform in 1985, an organization that spreads the word about possible new treatments and exerts pressure on Federal bureaucrats and drug companies. In 1989 Project Inform started what Mr. Delaney calls 'medically supervised guerrilla trials'—community-based tests to study the safety and efficacy of drugs that were being smuggled into this country by underground supply networks like Mr. Corti's and that were already being used by AIDS patients.
Whereas Taylor was a star, and she put her stardom to work on behalf of people who were suffering. The Guardian points to her comments in a 1992 interview with Vanity Fair: "I decided that with my name I could open certain doors, that I was a commodity in myself – and I'm not talking as an actress," she said.
She added: "I could take the fame I'd resented and tried to get away from for so many years – but you can never get away from it – and use it to do some good."
---
Contact the author at kelly@jezebel.com.
Photo via AP Images.