Maybe it's the stress of endless social obligations, maybe it's the diminished daylight hours, and maybe people are just a bunch of Santapunching Scrooges. No matter the reason, every year, it seems as though a rash of appropriately decorated seasonal violence erupts during the holiday season. Here's this year's rundown of Fe-le-le-le-lelonies.
Appropriately decorated holiday crime tends to fall into several categories: holiday characters assaulting others, other people attacking holiday characters, theft, improvised weaponry, and miscellaneous vandalism.
Holiday Character Assailants
The Criminal Kris Kringle meme enjoys a long, proud tradition stretching back to the Texas's infamous 1927 Santa Claus Bank Robbery. This year, a man in Hoboken, New Jersey attempted to take up the mantle of Santacrime by robbing a woman on the street and dragging her along outside a cab while wearing a Santa Claus suit earlier this month. The visibly drunk offending Santa was suspected to have recently returned from New York City's SantaCon pub crawl. A Berlin Santa has a decidedly more festive take on holiday crime. He's been stalking the city's Christmas market and spiking revelers' drinks with ecstasy. "Bad Santa" continues to elude authorities. One man took the "dressing up as holiday characters while committing crimes" to other holidays, robbing a Nashville bank while dressed as a leprechaun and later resuming the robbery game dressed up as Santa Claus. Santa Claus costumes are a nice touch if you're planning on emulating your Texas forebears and robbing a bank, but no need to go Full On Santa; you can just do what this guy in California did and just don Jolly Old St. Nick's trademark hat. You don't need to steal money, either. Santa hat wearers also sometimes steal guns. And we can't forget about the miscellaneous random Santa-inflicted beatings that happen every year, like the one that befell an unfortunate Vancouver bar patron earlier this past weekend.
Holiday Character-Related Assault
Santa's not always up to no good, though. Sometimes he or his beloved Yuletide cronies wind up at the receiving end of crime. In Oklahoma City, a drunk guy drove his car through the side of a house owned by a man who earns extra money playing Santa Claus. Best Buy's new ad campaign practically <a href="http://politicsandfinance.blogspot.com/2011/12/is-bea…">centers around Santa-directed aggression.
G/O Media may get a commission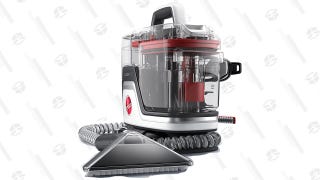 Save $10
Hoover CleanSlate Plus Carpet & Upholstery Cleaner
Have you ever heard of a character named Zwarte Piet? If you live or have spent much time in the Netherlands, you probably have. He's Santa's slave, and he's played by a guy who wears blackface, as a playful little reminder of the colonial history of the Dutch. Lovely, right? After protesting Black Pete for being appallingly racist, one man was arrested and beaten. They take their beloved antiquarian holiday traditions very seriously.
Theft
Want to read a whole bunch of depressing stories about assholes? Run a Google News search for the word "Grinch." Not only will you find stories relating to Jim Carey's appalling violation of the treasured Dr. Seuss classic, but you'll also find tales and tales of people stealing Christmas presents from families days before Santa's supposed to drop by. In Richmond, Virginia yesterday, some thieves stole wrapped presents from under a Christmas tree. A Long Island family living in a Habitat for Humanity home had $5,000 worth of electronics equipment stolen from them after someone broke in when they were at a birthday party. Families from Texas to Nunavut have been robbed as well.
Some fancy holiday thievery led to Chicago's Toys for Tots suddenly missing $25,000 in cash. That's a year's worth of donations. A board member and his wife are suspected of skimming the money from the organization and using it to buy Toys for Themselves.
Improvised Weaponry
Back in November, a Connecticut woman used a Christmas ornament to stab someone after they accused her of stealing jewelry at a craft fair. The previous grouping of words is in the running for the title of Miss Sad America Sentence 2011.
Miscellaneous Vandalism
Vandals in Staten Island have made off with a menorah. Meanwhile, in Montana, both Mary and Jesus are missing from a publicly displayed nativity scene. In Louisiana, some Scrooge slashed inflatable Christmas decorations in a public park. And in Chicago, the lady who lives down the street from me who fills her front yard with garish inflatables was horrified to discover last week that her very Christmassy "penguin wearing people clothes" decoration had been stabbed and deflated by a gang of roving local youths.
Let's make one thing clear: defacing Christmas decorations because you hate people's religion is decidedly not cool. Defacing Christmas decorations because you're young and wild and free is less uncool than hate crimes, but not cool all the same. However, deflating those inflatable yard ornaments that look like the swollen ankles of Rush Limbaugh formed into the shapes of beloved holiday characters should be condoned. Worst decorations ever.
Judging by the number of bizarre Saturnalia-related crime, when Ebeneezer Scrooge cursed holiday revelers to be boiled in their own pudding and buried with sprigs of holly in their hearts, he wasn't that far off.