Season 2 of UnREAL had almost as many exhausting storylines as Empire and felt more like a soap than a show tucked in a show about a real-life dating show. Altogether, it made for a cluster-fuck of a season, at times more overwrought than it was enjoyable, though definitely not at all devoid of drama.
Starting with the opening seconds of the first episode, race and the exploitation of it on reality TV fueled much of the narrative. This, along with the show's already high-stakes dynamics, also accounted for much of the season's excess melodrama. UnREAL producers made a smart choice to place a black NFL "suitor" named Darius at the center of its fictional dating show Everlasting, but the resulting storyline—which included a Black Lives Matter character (Ruby) and an intense episode about police brutality (respectfully, it was written by one of their black female writers Ariana Jackson)—couldn't help tripping over itself, all the way up until Monday night's Season 2 finale.
The final moments came down to a cleverly executed double wedding between two women vying for Darius' "love": Tiffany, the adventurous daughter of an NFL team owner and Chantal, the picture-perfect pageant wifey. My early prediction was that neither of them would be chosen and that Ruby—Everlasting's realest character—would return at some point to claim Darius. That turned out to be true, and even though Ruby said no to the wedding spectacle, her relationship with Darius came alive.
UnREAL first season excelled at milking the toxic relationship between Rachel and Everlasting's maniacal matriarch Quinn while exposing the skeletons of reality TV. Season 2 was the definition of "That escalated quickly," with a much more dizzying array of moving parts, almost undermining that the beauty of this show is its manipulation of all things offensive. The biggest overdone moment was Rachel's suffering from depression to the point that her estranged mom sends her to a psychiatric clinic (this after her ex-boyfriend Jeremy assaulted her). The legitimate feud between Rachel and Quinn over control of the show also got to the point where the two launched ridiculous efforts to one-up each other through puppeteer moves that forced many of the season's needlessly over-the-top scenarios—i.e. Quinn masterminding a situation in which Ruby's father interrupted her bedroom time with Darius.
Again, we're left wondering whether Rachel and Quinn will always be forced to choose the show over a life of sanity, especially since neither of their potential suitors worked out. Despite a brief indulgence in grown-up romance, Quinn self-destructs and abandons the dream of a family life she doesn't seem to want anyway. And the new showrunner Coleman's failed attempt to sabotage Everlasting by conspiring with the undercover reporter "Hot Rachel" (who by the way, Rachel poisoned and made shit her pants on live TV) ensures the dissolution of whatever bond he had with Rachel. I still don't understand why Coleman turned so quickly on Rachel and transformed into a villain. Maybe it's to serve as a commentary on the evil seduction of reality TV production, made all the more evident by the show's sadistic ending—yet another fatal "accident" involving Coleman. "You don't ever have to worry about them again. I told you I'd do anything," Jeremy tells Rachel, before news footage of a car accident is shown.
G/O Media may get a commission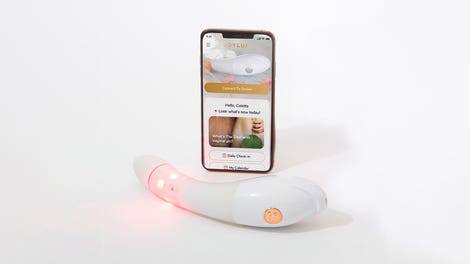 $50 Off
Joylux vFit Gold Device
In real life, at least, UnREAL has done its job. The race factor, while serving as a convenient point of exploitation, may have forced UnREAL's real-life prototype, The Bachelor, to have a mirror check—ABC's newly appointed head of entertainment, Channing Dunney, a black woman, revealed plans to diversify The Bachelor during TCA this week, and admitted she has watched UnREAL (unlike Bachelor host Chris Harrison). Besides this season being a case of the sophomore slump, the show's producer say they expected a higher level of criticism. "There's really pulpy, fun entertainment that is sparkly and pretty and wild and off-the-rails, and then there's 17-layered meta commentary on feminism and white privilege," co-creator Sarah Gertrude told The Hollywood Reporter. "I'm still proud of us for swinging for the fences and we legitimately feel like, yes, all of those comments are valid."