Where the Met Gala is supposedly America's most important red carpet, you could argue that Cannes's is the world's. The stakes might be higher, though, because of sheer longevity, and it always shows in the fashion choices; every year it's clear that at least a handful of actors, established and emerging, are trying to conjure the spirits of Grace Kelly, Sophia Loren, Audrey Hepburn, et cetera. The glory days, back before the devil conjured Netflix. Above, Fan Bing Bing brings her style icon self to life in Grace blue.
Cannes opened Wednesday with a screening of Ismael's Ghosts (Les fantomes d'Ismael), a French ghost film starring Marion Cotillard and Charlotte Gainsbourg. Variety thought it sucked. But did the fashion?
The cast of Ismael's Ghosts did the carpet right, at least, with Marion Cotillard pulling off the first pin-striped, pirate-necked, hook-and-eye red carpet gown I've ever seen (it's Gaultier), and Charlotte Gainsbourg proving why she is the queen of French cool: who the hell else would do Cannes in a minidress? It's perfect.
G/O Media may get a commission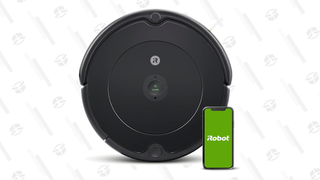 35% Off Black Friday Deal
iRobot Roomba 694 Robot Vacuum
If you recall Bella Hadid's Cannes debut, she is fully leaning in to leggy and nude, fully going for Loren in Alexander Vauthier. Lara Lieto's ice-blue chiffon is another Kelly-aspirational moment, while Lily Rose Depp showed up in Grecian-inspired Chanel Resort 2018 like the Karl loyalist she is.
Araya Hargate's gorgeous Ralph and Russo couture is as old-Hollywood as I can imagine, splitting the difference between diva and feather duster.
Tan and taupe was a reigning theme. I don't know why. Clotilde Courau and Mallika Sharawat did the embroidery thing right, while Emily Ratajowski (overly accessorized) and Uma Thurman went for more classic silhouettes. Why was EmRat there, again? Am I wrong in thinking the only thing she's ever been in was Max Catfish's EDM movie starring Zac Efron?
Barbara Meier and Eva Herzigova are a silver and gold dream team, while Elle Fanning and Jara Ghadri look like a really posh girl-gang, the Pink Ladies of Couture.
Fleur Pellerin's shift-dress over a long-slip is very businesslike, but I adore Iman Perez's fuschia lace-starred look. Julianne Moore's demure red Givenchy is well constructed and so signature-Givenchy it's almost tiring, but Xu Dabao's crimson is both fun and incredibly patriotic! All of us, in three years.
Turquoise delights! Aymalene Valade kept it comfortable in a suit, while both Fagun Thakrar and Frederique Bel went more traditional. I like Bel's sheer fringe thing because it's very Head Majorette.
It's creamsicle season, my pals, and we've got these ladies to tell you about it: Delphine Wespiser accessorized her simply pretty look with a true coiffure, while Noemie Harris went sweet multi-pastel for early summer. Susan Sarandon is essentially everything in this "deal with it" look from 1992, which is good because Spanish actor/musician Victoria Abril really is doing the most, in the worst way. In a look she was reportedly calling "African geisha" (???), it's like she woke up this morning and was like "I don't half-ass anything… even cultural appropriation!" But is it appropriation if you've invented the culture? I don't know, but it looks like shit and she looks like a dumbass.
Coco Konig is here in butterflies while Rossy de Palma looks like the only person having any fun at this thing. I, too, would swish around my skirt if I were wearing those glitter booties. Sara Sampaio and Victoria Bonya are both going for the Grace Kelly template, but after a certain point the conservatism ends up being kind of anticlimactic? That said, a long-sleeved gown is nice now and again.
Deepika Padokone, finally, is one of my faves; I'm over sheer gowns, but the combination of tulle and eggplant is just stunning here, and looks modern while adhering to the seriousness of the moment. Also, everyone else looks like they are probably sweating, but she does not: the most important aspect of a formal event!
Watch this space for more Cannes haps and fashion dragging.