Shree Chauhan, a 33-year-old woman who lives in Washington DC, has more guts than half the political reporters covering the Trump Administration. On Saturday, Chauhan spotted White House press secretary and human marshmallow Sean Spicer at the Apple Store and seized the opportunity to ask him, "How does it feel to work for a fascist?"
A bit trolly, but honestly, not a bad question!
Spicer mutters something about living in a "great country" when Chauhan then asks him about "the Russia stuff."
"Are you a criminal as well? Have you committed treason, just like the president?" she asks.
Spicer says "Thank you," smiles, and that could very well have been that. So far, nothing particularly newsworthy has happened.
G/O Media may get a commission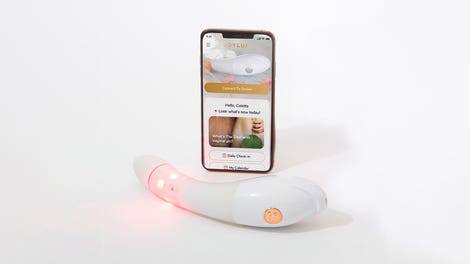 $50 Off
Joylux vFit Gold Device
However, Spicer then says this: "Such a great country that allows you to be here."
It's like no one in this administration can go more than an hour without saying something racist or xenophobic. Chauhan, who is ethnically Indian, was born in New York. In a Medium post about the encounter, she wrote, "That is racism and it is an implied threat."
In recent weeks, two Indian men were shot—one fatally—in Kansas City by a man who screamed, "Get out of my country!" A gunman allegedly yelled, "Go back to your country" before shooting Deep Rai, a Sikh man, in his driveway in Washington state. The FBI is also investigating the shooting of Harnish Patel in South Carolina as a hate crime. So yeah, Spicer's statement to Chauhan is both offensive and threatening.
"It's one thing to have a Twitter egg tell say you do not belong in America, it is quite another to have the Press Secretary of the United States of America do so," she continued. "I am still astounded. And while I am fearless, I wonder how this administration will use its power to silence ordinary people like me."
Chauhan told TIME Magazine that she has been receiving death threats on social media since the video went viral, but is "not sorry."
"What I did is like a blip compared to what this admiration is doing and what Mr. Spicer is complicit in doing, which is undermining this country's constitution and our democratic values," she said.