Sean Parker's wedding is the gift that keeps on giving. For those that were enraptured by the 364 beautiful costumes that were designed by the actual costume designer from Lord of the Rings and how they looked on the bodies of beautiful people like Olivia Munn and Lars Ulrich, take comfort in the fact that it was a production to get fitted for those costumes. Like more complicated than getting ready for your own wedding.
According to Vanity Fair, the wedding costumes were like something out of a movie. A movie that won many Oscars, specifically:
Each guest was custom-fitted in Tolkien-esque garb by Ngila Dickson, the costume designer who won an Academy Award for The Lord of the Rings. "How many times do you get to dress up 364 guests in crazy costumes?" Parker asks. (Men wore silk-brocade vests and jackets. Women arrived in silk and velvet.)
The form below is what was set to each female guest (presumably the gentlemen got their own form), to be returned a month and a half before the wedding, to make these dreams became a reality. Female guests were required to submit measurements including, but not limited to: dress size, height, weight, bra size, head, neck, bust, front neck to mid bust, front neck to hem, nape, upper arm, outside leg, back and trouser waist. Plus "any other measurement or instruction you like to add please specify here" — just in case you wanted to request that your gown be a luscious sapphire blue or something (ruby is terribly unflattering with your skin tone).
G/O Media may get a commission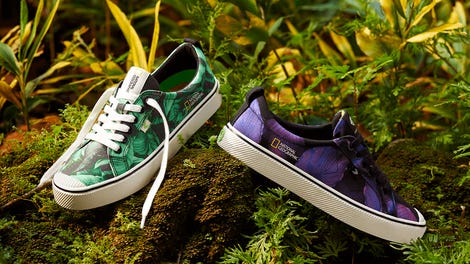 New New New
Cariuma + National Geographic
This beautiful Elfin scroll was accompanied by the following details on getting fitted for those costumes:
We don't have transport from the airport, but we will have transportation from the hotels to the various events. Sean and Alexandra are hosting everyone for the lodging, so you don't need to worry about booking a room.

Fittings will occur either on site at the wedding location or a week or two before the wedding in LA, SF or NY if you will be in any of those cities.

We will need to get your measurements for a custom outfit that every guest will be given as a gift from Alexandra and Sean. All the guests will wear these custom made outfits to the wedding on Saturday night. Any tailor can take the measurements for you. Also, let me know preference for a wedge heel or flats. It would be great to get your measurements back by the end of this week.

After we get your initial measurements, the outfit will go into production. Along with your measurements, please send a full length snapshot and indicate your preference for flats or wedge heels.

Also, just so you know, there will be a rehearsal dinner Friday May 31st which everyone is invited to join. It should be quite amazing, though the details are still being finalized so I can't give you a time yet.
Quite amazing, yes.