Fox's new horror comedy Scream Queens is, as the title suggests, a sendup to the horror films that came before it, but that doesn't mean that the show is solely paying tribute to the slasher genre. In fact, it looks like the entire mean teen movie pantheon is getting its due and last night's trope victim was the teen movie makeover.
"Popular Girl Gives Nerd a Makeover" is—as we all know—a hallmark of teen movies. Sometimes the queen bee does it out of the goodness of her heart (Clueless, Grease, The Breakfast Club). Other times, she does it for power (Heathers, Jawbreaker). When Scream Queens' Chanel (Emma Roberts) agrees to make over dorky, neck-and-back brace-imprisoned Hester (Lea Michele) and transform her into Chanel #6, her motivations are somewhere in the middle.
"This is perfect," Chanel says. "Chad broke up with me because he said this house is full of losers, but if I fix you up a little bit, there'll be one less disaster under this roof. I will totally look like someone nice. I'm going to make you over."
But while she's not currently using the makeover to blackmail or bribe Hester, it's very clear that Chanel is more of a Heather Chandler than she is a Cher Horowitz. And as is usually the case when a mean girl turns a nerd girl into her pet project, her project eventually becomes a monster of her own making and turns on her.
G/O Media may get a commission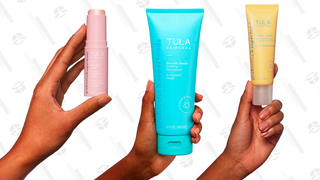 Jawbreaker's Courtney (Rose McGowan) graciously turned Fern Mayo (Judy Greer) into popular girl Vylette to keep her from exposing the manslaughter of classmate, but—in doing so—created something worse.
Heather Chandler may have taught Veronica Sawyer to fuck with the eagles (even getting her into a Remington party—a REMINGTON PARTY!) and what did she get in return? She got murdered!
See? These kinds of makeovers—especially in a world like Scream Queens—rarely, if if ever end well. By releasing Hester from her back brace and gussying her up with expensive clothes, Chanel has freed a demon. As the old saying goes, if you play cards with or makeover the Devil/Lea Michele, the Devil/Lea Michele will win.
---
Contact the author at madeleine@jezebel.com.
Images via Scream Queens/Fox, Jawbreaker/TriStar Pictures, and Heathers/New World Pictures.