The divided young women of Scream Queens' Kappa house have finally put aside their differences and come together to achieve their common goal of killing the Red Devil, the serial murderer who's terrorizing campus. Sisters are doing it for themselves!
With most of Kappa suspecting that Dean Munsch (Jamie Lee Curtis) is the Red Devil, the girls decide to launch a preemptive attack and murder the dean before she can murder them. Their choice weapon: poison. Their infiltrating technique: forming the Wallace University Feminist Collective and coercing Munch into being their leader.
Asked by the dean to define "millennial feminism," Chanel (Emma Roberts) quips, "Being a millennial feminist means growing up listening to Taylor Swift say she doesn't like to think of the world as boys vs. girls—"
"Yes," Grace (Skyler Samuels) interrupts. "And then graduating and entering the workforce only to realize that you make 20% less than men for doing the same job."
They then make these faces:
G/O Media may get a commission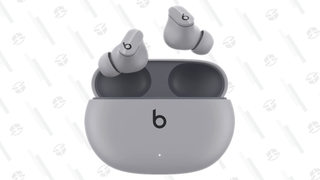 Munsch disagrees with their definition of feminism (though I think there's something to it...) and launches into a lengthy lecture—delivered as she swigs down poisoned apple cider—that includes references to Sandra Day O'Conner and Susan Sontag. Turns out, the poison has no effect on her. Guess it takes a lot more than puffer fish venom to take down a former Ms. Magazine intern.
By the end of the episode, Grace and Chanel are back on the outs, but it was nice to see the Kappas briefly united, fighting back, and trying to take control of their own destinies.
As Grace says while trying to win over Dean Munsch, "All this killing has really shown us the importance of sisterhood. You know, how crucial it is for women to join together."
And despite Grace's ulterior motives, it is crucial! It's a responsibility to sisterhood that leads Chanel to stand up to the Red Devil and take a non-fatal arrow to the arm and it's sisterhood that pushes the Kappas to be proactive in their situation. Most importantly to Scream Queens as a whole, it's sisterhood that allows the series to (momentarily) crawl out of its slump and be entertaining for the first time in many episodes.
So raise a glass of poisoned cider, Ryan Murphy and company. We're drinking to feminism!
---
Contact the author at madeleine@jezebel.com.
Images via Scream Queens/Fox.