Environmental Protection Agency Administrator Scott Pruitt said on late Thursday that it was "insensitive" to talk about climate change as Hurricane Irma bears down on Florida.

"To have any kind of focus on the cause and effect of the storm; versus helping people, or actually facing the effect of the storm, is misplaced," Pruitt told CNN. "What we need to focus on is access to clean water, addressing these areas of Superfund activities that may cause an attack on water, these issues of access to fuel," Pruitt added. "Those are things so important to citizens of Florida right now, and to discuss the cause and effect of these storms, there's the... place (and time) to do that, it's not now."

Pruitt added that he was focused on ensuring that waste from the 53 Superfund sites located throughout the state didn't leak into Florida's water supply. He added too that the EPA was "working in advance with the owners of those sites to secure those sites." Pruitt did not elaborate on the EPA's plans nor did he discuss his July recommendation to drastically cut the EPA's budget, a plan that many experts in Florida have argued will not only slow the process of cleanup but prevent new sites from being added.
(Florida is at particular risk from Superfund sites because the state's water table is shallow, but it also draws much of its drinking water from aquifers of porous limestone which are particularly susceptible to pollution. Added to the lack of EPA oversight, is Florida's own mishandling of its environment, which has magnified under the leadership of Governor Rick Scott.)
G/O Media may get a commission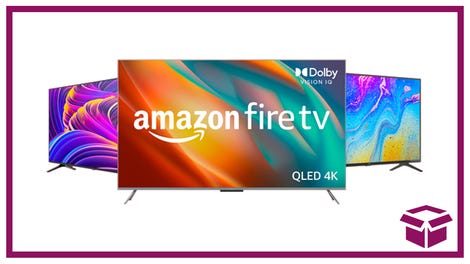 Ooh. stunning.
New Amazon Fire TVs
Pruitt also told CNN that the EPA was working to bring more fuel into the state post-Irma but again declined to address the effects of climate change. "All I'm saying to you is, to use time and effort to address it at this point is very, very insensitive to [the] people in Florida," he said.
This isn't a new talking point for Pruitt. In late August, Pruitt declined to talk about climate change after Hurricane Harvey left Houston and the surrounding areas flooded. The EPA administrator told the conservative website Breitbart that it was "opportunistic" for the media to discuss climate change. "Just to simply engage in a cause and effect type of discussion, and not focus upon the needs of people, I think is misplaced," Pruitt said. He added then, as he did on Thursday, that the EPA was instead focused on "working with Texas to ensure that people have safe drinking water, and power's back on, and we see the right response by each of the federal agencies."
What's increasingly clear is that there is, apparently, no good time for Pruitt to discuss climate change despite the fact that Florida—particularly South Florida—is extremely vulnerable to its effects. 
As I sit in at my parents' home in Broward County (my own is in an evacuation zone)—windows covered with hurricane shutters and water hoarded into every possible container, waiting to see if Irma is going to be another Wilma or another Andrew—I would quite like to talk about the effects of the rising ocean temperatures in a region that houses millions of people. I would love for Donald Trump to acknowledge that climate change isn't a "hoax" and for Rick Scott to also acknowledge that man-made global warming is real instead of banning the phrases "climate change" and "global warming" from being uttered in state agencies.
"Insensitive" might sound like a good talking point for Pruitt; it falsely conjures up a sense of empathy and caring that is otherwise absent within the Trump administration. But it's little more than an easy evasion born of Pruitt's own ties to the fossil-fuel industry as well as his quick move to, the New York Times reported in July, "undo, delay or otherwise block more than 30 environmental rules, a regulatory rollback larger in scope than any other over so short a time in the agency's 47-year history, according to experts in environmental law."
This seems, at least to me, more "insensitive"—more "opportunistic," even—that discussing the devastating effects of climate change.