The Massachusetts Senate race pitting Republican Scott Brown and former Harvard Law Professor/chair of the Congressional Oversight Panel Elizabeth Warren is getting ugly fast, and both candidates recently hit each other below the belt.
On Tuesday, Warren threw down the gauntlet when she remarked that she "didn't have to take her clothes off" to pay for college, in reference to Scott Brown's now-infamous Cosmopolitan spread.
This morning, Brown was a guest on a Boston area radio show, when the host brought up the fact that Warren didn't have to nude her way through college, Brown responded, "Thank god."
Ah, the esprit de l'escalier is strong in this one. After yukking it up over how totally gross it would be to see Warren naked, Brown continued,
You know what, listen: Bottom line is, you know, I didn't go to Harvard, you know, I went to the school of hard knocks, and I did whatever I had to do to pay for school...
You know, whatever. You know, let them throw stones. I did what I had to do. But not for having that opportunity, I never would have been able to pay for school, and never would have gone to school, and I wouldn't probably be talking to you, so, whatever.'
G/O Media may get a commission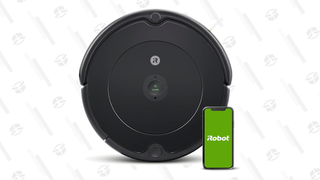 35% Off Black Friday Deal
iRobot Roomba 694 Robot Vacuum
The "school of hard knocks" to which Scott Brown is referring in this case, is either Tufts University, where Brown went to undergrad, and Boston College Law School, where he received his JD. Nothing like the mean streets of Chestnut Hill, Massachusetts to teach a man about the ways the world can chew you up and spit you out. His life sounds like a hidden level in Grand Theft Auto: San Andreas.
Further, Boston College, Tufts, and Harvard are all private schools and thus comparable in costs. According to its website, Harvard gives need-based aid to a full 60% of its undergrad. If Brown didn't want to "have to" take his clothes off in order to pay for college, maybe he should have considered attending a school with a larger... endowment.
Scott Brown quips about Elizabeth Warren's Appearance on Boston Radio Show [Boston Globe]