A lawyer representing Shelly Miscavige, the wife of David Miscavige, Scientology's leader, has demanded that Jezebel remove a story we ran yesterday on Shelly's alleged disappearance. The attorney, Jeffrey K. Riffer, writes "Mrs. Miscavige is not missing" and that she is "appalled" by claims that she has disappeared. He adds that in running our piece, Jezebel furthered the harassment of one woman by another.
The allegations that Shelly Miscavige has disappeared come from Leah Remini, an ex-Scientologist turned one of the church's most prominent critics, via her show Leah Remini: Scientology and the Aftermath. Our blog yesterday featured a recap of the most recent show, which dealt entirely with the fact that Miscavige hasn't been seen in public since 2007, as well as how Scientology responded to the airing of the program. Remini filed a missing persons report in 2013, asking that Shelly's whereabouts be investigated, which Riffer correctly says was closed and labeled "unfounded" by the Los Angeles Police Department.
Jezebel contacted an attorney connected with Scientology and their media relations department yesterday and didn't receive a reply. After several hours, we ran our post, with a note that they had been contacted for comment and we would update if we heard back. About 30 minutes after the post went live, we received a response from the media relations department, asking only when our deadline was. When I replied that the story had gone live and I would update it with comment from them as soon as they provided it, I did not receive a response. The legal letter was sent at 9 p.m. California time, via email, about six hours after the post went live.
In his letter, Riffer, who works for the Los Angeles-based firm Elkins Kalt Weintraub Reuben Gartside LLP, opens by saying that the Miscaviges have been married for nearly 40 years, and that Shelly has been a Sea Org member for about 45. (The Sea Org is reserved for the most dedicated members of the church; Scientology acknowledges Sea Org members sign a one-billion year pledge to serve, saying it is "a symbolic document which, similar to vows of dedication in other faiths and orders, serves to signify an individual's eternal commitment to the goals, purposes and principles of the Scientology religion.")
"Jezebel is a feminist website," Riffer adds in his letter. "It should not be a tool to allow one woman (Remini) to harass another woman (Mrs. Miscavige), her husband and her religion."
G/O Media may get a commission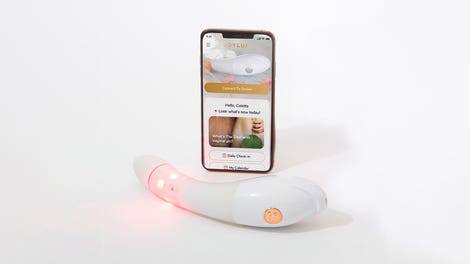 $50 Off
Joylux vFit Gold Device
From there, the letter makes some specific claims about both Shelly and Remini, which are as follows:
1. Mrs. Miscavige is not "missing." Remini previously filed a "missing person" report about Mrs. Miscavige with the Los Angeles Police Department ("LAPD"). LAPD investigated. It then immediately concluded that Remini's report was "unfounded," which means the report was false and meritless. Mrs. Miscavige has no interest in appearing in public merely because Remini – who is no friend to Mrs. Miscavige, her husband or her religion (see below) – wants to use that as some cheap publicity stunt to get ratings.
The LAPD hasn't said that Remini's report was "false" or charged her with filing a false report, which would be a misdemeanor under California law, but they did, as far as we know, close the investigation in 2013.
Second, Riffer returns to an accusation frequently made by Scientology against Remini, namely that her program is inciting hate crimes against the church:
2. Mr. David Miscavige has been the subject of death threats, including by people incited by Remini's program. Remini has fawned over a program guest (Brandon Reisdorf) who was a convicted felon and the subject of a criminal restraining order (for threatening to physically harm Mr. Miscavige). No responsible person would have booked such a guest on a television program in the first place. Remini (a) booked him for her show and (b) applauded him on the air for his criminal and psychotic acts.

Another of Remini's "followers" threatened to assassinate Mr. Miscavige. When questioned by law enforcement, he confessed that the "King of Queens lady" motivated his criminal act. He was arrested, convicted and imprisonedfor felonies. Remini was mute.

Most women would be appalled if another woman acted that way to their husband – and Mrs. Miscavige is appalled at Remini's behavior.
Brandon Reisdorf, the guest mentioned by Riffer, grew up in a Scientology family, and Aftermath has previously outlined the Reisdorf family's story, claiming that when suffering from mental health problems as a young adult, he was put in isolation and subject to daily auditing sessions. Reisdorf's brother reportedly "disconnected" from him and the family after they left Scientology and were declared "Suppressive People." (An SP designation reportedly requires all devout Scientologists to actively shun the person.)
At that point, per the show, Brandon Reisdorf threw a hammer through the window of a Scientology building, for which he was arrested and charged with a felony and a hate crime enhancement for the religious nature of his target. He was put in a psychiatric unit, he says, and eventually diagnosed with bipolar disorder. Reisdorf remains on probation until 2019, and journalist Tony Ortega has reported that Scientology complained to his probation officer about his appearance on Remini's show.
Riffer is also correct that another man was arrested in 2016 for making threats against David Miscavige and other Scientologists: According to police, Andre Barkanov of Illinois called Scientology's main telephone line and vowed to kill both Miscavige and "every single" member of the church. (The claim that he specifically referred to the "King of Queens lady" is one that I can only find cited in Scientology publications; at the time, a spokeswoman for the church told the Los Angeles Times "From what we have been told, his actions appear to have been incited by anti-Scientology propaganda.")
Riffer also accuses Remini of filing the police report as a way to get the LAPD to send a note to Shelly, encouraging her to leave both the church and David. He also defends David's character:
3. Remini has harassed Mrs. Miscavige before. Remini has admitted in writing that she filed the "missing person" report with LAPD regarding Mrs. Miscavige because Remini had just left the Church of Scientology and Remini wanted to conscript the Los Angeles Police Department to deliver a note from Remini to Mrs. Miscavige recommending that Mrs. Miscavige leave her husband and her religion, and go to Remini!

Most wives would consider a demand to leave their husband and religion to be outrageous and insane — which is exactly how Mrs. Miscavige views it.

4. Mr. Miscavige has led a worldwide religion for more than 30 years. His commitment in service to parishioners and the community is well documented. The Church is experiencing its greatest era of growth with more than 70 new Churches opening in recent years. Mr. Miscavige personally completed a 25-year program to recover all of the Founder's religious writings and lectures and make all of the religion's materials available. He spearheads the Church's humanitarian initiatives in human rights, morality and drug education. See www.davidmiscavige.org and www.scientology.tv/network/scientology-network- launch-special.html.

Remini's implication that Mr. Miscavige would do anything to hurt his wife is absurd. Indeed, as noted above, law enforcement (LAPD) already reached the same conclusion.
Ex-Scientologists have used Remini's program to accuse David Miscavige of physically beating them up. No one has ever, to our knowledge, reported seeing him use any kind of violence towards Shelly.
Ex-church members have alleged to Tony Ortega that Shelly was sent away in 2005 or 2006 because of a strained relationship with David, caused by her reportedly making some executive decisions at the Int Base Scientology location without his express permission. They have said they believe she lives near a Scientology outpost in Twin Peaks, California, and may have handlers or guards watching her. Ortega reported in 2016 that Shelly had been spotted looking "frail" in the area, and that the witness noted the presence of two men who seemed to be leading her.
Finally, Riffer accuses Remini of knowingly promoting a hoax:
5. Remini knows that the "Where is Shelly?" story is a hoax. One of Remini's (and co-host Rinder's) former confidants (Marty Rathbun) has publicly exposed, on a video he posted on the Internet, that the "Where is Shelly?" story is a "scam from the beginning." [Here Riffer embeds the following video]
Please watch the video. Its bracing evidence that Remini should not have broadcast a bogus story and Jezebel should not be a party to this charade by giving Remini any more publicity about this.

Or, in case you prefer to read, the key portion of the interview states: "[In] 2013, I think it was, Rinder told me about that, that she [Remini] was going to do a whole thing about 'where's Shelly' ... And I said, 'Mike, why would Leah do something like this, you know, if she has any concern about her own credibility and integrity? You know she's not missing ... and you know that the last person in the world she'd want to see is Leah Remini or Mike Rinder.' Mike goes, 'Yeah, yeah, I know, I know...' He knew. He knew it was a scam from the beginning. He knew it was a cheap shot from the beginning... [Remini] goes, 'I know that, I knew she wasn't missing.' ... In other words, she told me she is in complete and utter league and agreement with Mike Rinder. ... she knew that. That was cool with her. In other words, she knew it was a scam from the beginning. ... She's complaining because the police aren't investigating the Shelly thing, right. They get their documents, their responses, no further story, right? Because there's nothing there. [They] are laughing all the way to the bank."
This brings us to a fascinating piece of Scientology drama: Marty Rathbun, seen in the video above, was a senior executive in the church before leaving in 2004. In 2013, his wife Monique, a non-Scientologist, filed a lawsuit accusing the church of harassing her for years. In 2016, however, Rathbun abruptly fired her lawyers and filed a motion to end her lawsuit without prejudice
Sometime in the past two years, Marty Rathbun evidently rejoined Scientology, an extraordinarily unusual turn of events. In 2017, he began appearing in videos produced by the church which criticize Remini and the show. Journalist Tony Ortega has speculated that Rathbun is part of a defensive effort that seems motivated by a concern that Scientology could lose its tax-exempt status.
Riffer's letter closes with an appeal to Jezebel as women, scolding us for running our story yesterday at all. (He quotes our headline as it first appeared, with a typo in the spelling of Shelly Miscavige's name; the typo was corrected after the post went up.)
Riffer writes:
Jezebel should not be a tool to allow one woman to harass another woman, her husband and her religion. Please remove the "Scientology Lawyer Compares Leah Remini to Jason from Friday the 13th For Asking About Location, Safety of Shelly Miscavage," post immediately.
We'll certainly take it under advisement. In the meantime, we would certainly appreciate it if Scientology would make Shelly Miscavige available to us—or to anyone, really—for an interview.
Correction: An earlier version of this post stated that Remini filed her missing persons report in 2015; she filed in 2013 and it was dismissed "hours later" per an ABC report at the time.