Scott Pilgrim vs. the World, which premiered at Grauman's Chinese Theatre, is about Michael Cera battling his lady's evil exes. But while there was some dubious fashion on display, nothing was as alarming as our hero's lower half:
I don't even know if you can even call this a "scroll-down fug." Scroll-down folly, maybe.



Sigourney Weaver's really tall, so I can't even imagine how long this inseam was. Most of us need to hem our pants, but wouldn't you think she'd be immune to that?



G/O Media may get a commission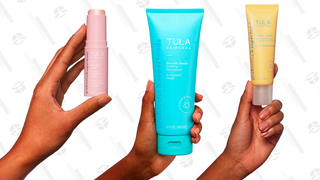 Anna Kendrick, subscribing to the "three wrongs just might make a right" school of red-carpet dress.



Abigail Breslin goes sweetly 60s-inflected: a teen summer classic!



Mary Elizabeth Winstead plays Pilgrim's dream-gal: classic bombshell feels apropos.



Alison Pill currently plays a princess in Pillars of the Earth. Here, a regal 60s-inspired getup worthy of the tinseltown iteration.



Judd Apatow with best-girls Iris and Maude, who clearly chose their own outfits.



Sometimes, a cigar is just a cigar. Other times, you're the star of a show whose entire premise is your having an enormous member.



Jason's shoes take the 90s revival extremely literally.



Kieran Culkin, lookin' foxy. And makes-you-feel-old grown-up.



Aubrey Plaza has yet another angry cat!


[Images via Getty]