A Michigan teen was voted homecoming king by his classmates, but his school then stripped him of the title. Their rationale: he's still registered as a girl.
According to Wood TV, Mona Shores High School in Muskegon, Michigan had in some ways accepted seventeen-year-old Oakleigh "Oak" Reed as a boy. Says Reed, "They let me wear a male tux for band uniform, and they're going to let me wear the male robe and cap for graduation." Teachers, he adds, "call me Oak, and they say, he, him, his." And when he campaigned for homecoming king (by simply posting the message "Vote for me for homecoming king" on Facebook), he won. But then he was summoned to the principal's office. Says Reed, "They told me that they took me off because they had to invalidate all of my votes because I'm enrolled at Mona Shores as a female."
Reed says he's not the only one affected by the school's decision: "It's the senior class that votes for their representative. What they did was taking away the voice of the senior class." But some students are reclaiming that voice with the Facebook group Oak Is My King. The group's description reads, in part,
Oak Reed received the most votes for homecoming King. Period. Our school not only lied to students, but they also promoted transphobia. Our school has made it clear that they don't want a transgendered student to represent Mona Shores. As students, we must stand up to assert the rights of Oak, and transgendered students everywhere.
The group's founders go on to urge students to wear "Oak is my King" t-shirts, and to "encourage all to write letters not only to our school paper, but to the chronicle as well." You can contact the Mona Shores newspaper, The Sailors' Log, via the "Contact Us" link on its website — contact emails for the editorial staff of the Muskegon Chronicle are listed here.
Homecoming at Mona Shores was Friday, so it's too late for the school to reverse its decision. It's not too late, however, for students and their supporters around the country to show the school how wrong that decision was. Given that the students themselves voted for Reed, it's not clear what school administrators think they're protecting them from. Essentially, they're sending the message that they, and not Reed himself, get to make the final decision about his identity. The founders of "Oak Is My King" are absolutely right that this is transphobic and discriminatory — on this issue, Mona Shores should let the students be the teachers.
G/O Media may get a commission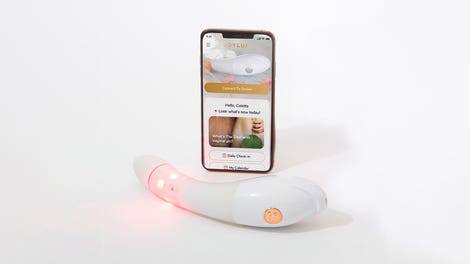 $50 Off
Joylux vFit Gold Device
Transgender Senior Can't Be King [Wood TV]
Oak Is My King [Facebook]
Image via Wood TV