University of Cincinnati student Shalom Ifeanyi says she was kicked off her college volleyball team and lost her athletic scholarship after questioning her coach's insistence she delete pictures on Instagram. She has now filed a lawsuit alleging gender and race discrimination.
Buzzfeed reports that Ifeanyi was a top-performing volleyball player who transferred from the University of Oregon to Cincinnati in January 2017. In her suit, filed last week in Ohio federal court, it is alleged that her new coach, Molly Alvey, immediately began questioning Ifeanyi's Instagram posts. In one instance, during a meeting on another matter, Ifeanyi says Alvey made her open her account and review the photos.
"When the football players see this, what do you think they see? They see your breasts. It's seductive," Alvey allegedly said, telling her she had to delete the images. The complaint shows the pictures Alvey took exception to; they are direct portraits of a smiling Ifeanyi that show a little cleavage.
Shortly after, Ifeanyi posted another selfie. She was contacted via text by Alvey, who told her to remove it. She responded, saying she would, but in the text she wrote that she felt she was being targeted because of her race:
"Ok Coach However I feel like I'm being body shamed because I'm not flat chested. I'm not trying to show my boobs coach, I can't make them go away. In these pictures I just got my hair done and really liked my makeup and thought the pictures were pretty. My teammates have swimsuit photos that are more revealing than me in a tank top. I will delete them if you really want me too [sic] but I feel like because people say I'm pretty I'm being sexualized. There's a history of black women because of their bodies being sexualized and that's what appears to be happening to me. I can't help the way I'm built. I am not trying to argue, I just feel like I have to be flat chested or really skinny in order to post."
G/O Media may get a commission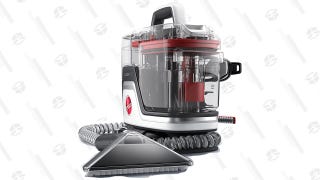 Save $10
Hoover CleanSlate Plus Carpet & Upholstery Cleaner
Alvey never responded via text. Though she acknowledged receipt of the message in person, according to the suit, she refused to discuss it further. That same week, Ifeanyi was awarded "top performer of the week" by the team's strength training coach. However, she was kicked off the team five days after her text conversation with Alvey, who Ifeanyi says told her they had "different philosophies."
The student filed a Title IX complaint, but the lawsuit states she hasn't heard from the university for nine months. The school and the coach did not offer a comment on the case. Read the complete suit at Buzzfeed.