The stars, young and old, came out last night for the premiere of Real Steel. It sounds like an 80's porno, but apparently it's just an action film with robots and Hugh Jackman.
Evangeline Lilly came to the premiere of Real Steel looking real soft. Her white gown is gorgeous and fits her amazingly. It was a smart choice to accent her dress with simple black accessories—earrings, clutch, and vintagey looking belt. What I can't figure out—even after looking at her from every which angle and under every which lighting—is whether her belt is holding back the world's longest cowl neck, or are we looking at a floor-length, partially attached scarf?
Wow. Someone was inspired to manipulate satin into a pair of eagle wings, arrange them into the shape of a W, attach 'em to the straps of a racerback bra, and then glue the whole thing onto the bottom half of a ball gown. I'm particularly impressed by how one of Olga Fonda's wings is casting grim reaper shadows on her boob. Also, the dress is five inches too short. That's some good-ass ass posing, though.
G/O Media may get a commission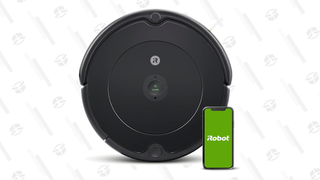 35% Off Black Friday Deal
iRobot Roomba 694 Robot Vacuum
How was weird was this red carpet that some people showed up in full length gowns and spread-eagled eagle wings, and others looked like this? It pains me to talk smack about Natalie Maines, but girlfriend looks like she's wearing head-to-toe H&M. Garcelle Beauvais's outfit is way too casual for this event, although it would be a sassy outfit for a night out with the girls. I hate that she matched her shirt to her shoes and her nails to her necklace, and I hate hate hate foot cleavage on booties like that. Jaime Ray Newman makes me feel like a mean girl because I loathe what she's wearing. The shape of her dress is boring, the colors aren't interesting nor do they complement each other at all, the stripes are horrible, and the shoes are lazy.
Anita Briem looks wildly inconsistent here. Her fishtail braids are in that sweet liminal space between weirdly hideous and weirdly interesting. They give off a sort of Neanderthal vibe that I kinda dig. But then her white cardigan and platform espadrilles seem so cloyingly sweet (and season-inappropriate.) Her skirt is super vivid and pretty, and I keep picturing it with a different top and some bomb ass shoes.
I like hot pink pumps in theory, but they always look tacky in practice. Plus, they're all wrong for Sophie Monk's dress, no? I love Stefanie Scott's lil' off-the-shoulder number. Maybe it's too 80's referential for some people's tastes, but I think it looks adorable on a teen like Stephanie.
These three teens knock it out of the park. Bella Thorne dressed down her outfit with white socks and lace-up boots. Love the not-so-Neanderthal fishtail braid tied up with a bow. Caroline Sunshine looks like she's going to a tea party, which is a great way to look. My only minor quibble is that I would have swapped out her belt for something a little less metallic, and I want to chop that dust-ruffle right off. China Anne McClain looks like she had had a lot of fun getting dressed, and isn't that the best part about dressing up?
Courtney Hansen looks cray-cray beyond cray-cray. She's wearing a macramé dress with a huge fringed bib in the front and white suede wedge boots with more fringe. But I have to admit, if Snooki showed up wearing this, I'd be thinking, Get it, girl.
I like the leather bustier top on KaDee Strickland's dress, but her shoes are a snore. Every time I see Jennifer Grey on the red carpet, I get sad thinking about how gorgeous she'd look if she hadn't gotten all that plastic surgery. Also, her jeans look sewed into her boots. Meredith Monroe is boring all over and the snakeskin sash doesn't go with her turquoise clutch.
What's with all the douche-posing? Hugh Jackman, the film's star, looks like he put a lot of effort into looking nice, which is nice. Tom Morello and Danny Elfman do not.
50 Cent looks pretty confident here, and Chord Overstreet looks like he's trying to look confident, but he just seems…uncomfortable? I'm a big fan of men wearing velvet, and call me deluded but I think Fiddy looks damn good. Chord Overstreet just looks… uncomfortable? Also, grown men, take note: You see the way wee Dakota Goyo is dressed and standing? That's how to be the most dapper dude on the red carpet.