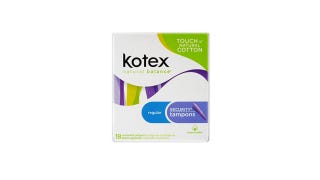 Okay, it's only Monday, so it's entirely possible that something more awful than Kotex contaminated with the bacterium Enterobacter sakazakii could come down the pike. But we hope not.
According to NBC, Kotex is recalling certain lots of Natural Balance Security Unscented Tampons Regular Absorbency sold at Walmart in Iowa, Kansas, Missouri, Nebraska, New Mexico and Texas; Fry's in Arizona; and Smith's in Utah and Arizona. Contaminated tampons could cause UTIs, vaginal infections, and pelvic inflammatory disease. Kotex's parent company Kimberly-Clark is telling anyone who has used their tampons and has "unusual vaginal discharge, headache, rash, fever, vomiting or abdominal pains" to contact a doctor.
The only good news here is that according to the company, no one has yet reported any health problems, and only one tampon was found to be contaminated. Still, tampons are one of the things you really, really want to be clean and safe and Enterobacter sakazakii-free — 100% of the time. Hopefully Kimberly-Clark will be more careful in the future.