The exact moment I started crying during last night's Scandal was at the end when Brandon Parker was finally zipped up into a body bag after laying in the street for way too long, and the camera froze on his face. This episode did the most and was asking a lot, and all in all it was just a gruesome fantasy.
Whenever Shonda Rhimes realized she had to write about Ferguson and take on the challenge of depicting such a complicated social justice system, she and her writing team must've struggled with how to tackle it. Ultimately, they chose to mirror some of the same real-life plot points in the melodramatic, frustrating, impossibly unreal way that only Scandal can.
The plot in a nutshell: Brandon Parker, a black teenager, is gunned down by a cop (Officer Newton). Brandon's dad Clarence (played by Courtney B. Vance) enters the crime scene and hitches a lawn chair over his dead son's body, which is laying in the street four blocks from the Capitol. Clarence sits with a shotgun and screams, "Bring me the cop who shot my son!"
Olivia and the "neighborhood activist" Marcus Walker meanwhile feud over procedurals, with him criticizing her for taking the cops' side. A group of protesters surrounds the crime scene, chanting, "Stand up, fight back! No more black men under attack!"—as Marvin Gaye's "What's Goin' On" plays in the background. The White House is preoccupied with nothing that matters. Anti-vaxxers. Anti-vaxxers. It's too much.
"That's your first mistake, thinking the situation needs to be diffused." -Marcus to Olivia

"You don't want justice. You want anger. You want outrage. You want retribution." -Olivia to Marcus
G/O Media may get a commission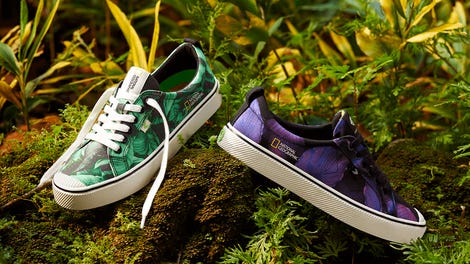 New New New
Cariuma + National Geographic
Emotions carried the entire episode—rage, sadness, disgust, frustration. Why was Olivia protecting the cops? Where was her allegiance? Shonda wanted to say something and maybe she knew it wouldn't be enough but that she could at least provide a fantastical ending.
The story continued: Officer Newton claims Brandon had a knife on him. Olivia gets video footage showing Brandon reaching for something in his jacket. It's all meant to spark a range of feelings in the viewer, including confusion: "Did he have a knife?" "So what? It doesn't matter" "This is not how it works," "This is not what happens," "All of these black men would've been dead in real life."
Scandal chose to... exasperatingly... depict various perspectives, including the cops, i.e. Officer Newton's maddening speech about risking his life for "these people" and being disrespected: "Brandon Parker is dead because he didn't have respect." What.
"The Lawn Chair" episode ends with partial justice. The boy is still dead. Officer Newton is arrested for planting a knife on Brandon and charged with obstruction of justice. Clarence is never arrested, instead meets Republican President Fitz and cries on his shoulders. Of course we want more. I guess the episode did what it was supposed to do: make us angry, sad, emotional, upset that not even a fake TV show gets anything right.
Image via ABC