Perhaps it's because the inauguration of Donald Trump is shaping up to be one the worst concerts in history or perhaps it's because many lawmakers are boycotting it, but for some reason tickets to Trump's swearing in are not really selling.
The New York Daily News reports one scalper's anecdotal story as evidence of the trend. A man named Yossi Rosenberg bought a $700 pair of tickets from a "Second Amendment activist" to Friday's ceremonies, thinking he could flip them at twice the price. No takers. He told NYDN, "Nobody wants to buy them," adding, "It looks like I'm stuck with them, I might even have to go." Quelle horreur!
Rosenberg says he's a Democrat, who purchased the tickets thinking some of those stinking rich Republicans lining Trump's pockets might line his a bit as well. He's listed them on Facebook, Craigslist, and "a handful of white supremacist websites, including the Daily Stormer," but no one is interested in inauguration tickets at that price.
The NYDN references a recent Gallup poll that states Trump's approval rating is only at 44%, with 51% disapproving of how he's handling the presidential transition. Somehow, 4% of people manage to have no opinion. Rosenberg wonders to the Daily News if this may be why he hasn't been able to scalp his tickets, after mentioning the most he was offered was $200. He says, "I guess his approval ratings aren't that right, right?"
G/O Media may get a commission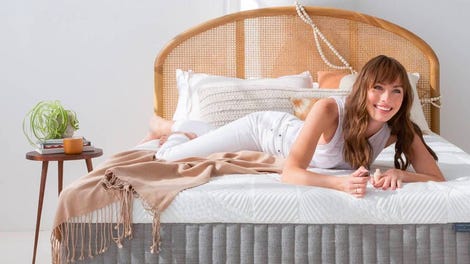 Sleep Sale
Sleep Sale - Brentwood Home
The Hill reported in December that tickets to the inauguration are technically free and that at least one ticket was listed on a scalping site at $14,700. Laura Condeluci, who is director of communications for the group running the inauguration said in a statement, "Tickets to view the swearing in of our next President are meant to be free, and it should remain that way."
Now it looks like ticket prices have fallen to between $175 to $400 on Craigslist. Rosenberg claims he voted for Hillary Clinton, but if he doesn't get any buyers within 72 hours he'll pack up and go himself. Seems like throwing good money after bad—though it will likely be a night to remember.